With processing plants throughout the Midwest shuttering to stop the spread of COVID-19 among workers, the livestock industry is facing a new problem. But that problem has stretched beyond the farms and slaughterhouses, reaching every link in the food supply chain.
One of the largest pork producers in the country - Iowa Select Farms - is headquartered in Iowa Falls. Communications Director Jen Sorenson said ISF sends hogs to JBS and Tyson Foods plants for processing, but as of last week none of those plants had shut down operations due to COVID-19.
Other plants in Iowa have been the focus of public health officials. A Tyson Foods plant in Columbus Junction was closed after hundreds of workers there tested positive for COVID-19. A National Beef Packing plant in Tama also closed down operations due to positive COVID-19 tests. 
But things changed for Iowa Select on Monday when the JBS plant in Worthington, Minn. announced it was closing indefinitely, laying off 2,000 employees. Iowa Select also sends hogs to the JBS plants in Marshalltown and Ottumwa, and the Tyson Foods plants in Storm Lake, Perry and Waterloo.
The Waterloo plant in particular has been the focus of attention over the past week as Black Hawk County officials called for its closure amid concerns that the disease was spreading among workers. Some 2,700 coronavirus tests were sent to the plant. As of Sunday, April 19, another Tyson plant in Perry had also reported an outbreak. That one closed on Monday for cleaning and was expected to re-open.
"The pork industry only has x amount of hogs it can market in a week, month or year," Sorenson said. "Anytime you take away any packing capacity, it impacts the entire industry. The concern now is with how many plants will close and for how long."
Sorenson added that all pork producers operate with "just in time" inventory, meaning today's market animals were bred 10 months ago and are ready. When they can't be sent for processing, that creates problems.
"We cannot dump milk, we cannot plow under vegetables, we have no place to hold pigs," Sorenson said. "So it's very concerning that we're faced with these packing plant closures right now."
Iowa Select has been working to adjust rations to slow or halt growth of its hogs to hopefully avoid any more packing plant issues. Sorenson said there are some 22 different diets depending on the phase of each pig's growth. She said diet adjustments can buy some extra time.
"We're trying to fully utilize our barn space, too," Sorenson said. "Optimizing all of our space means we can hold those pigs a little longer. That's the situation we're in right now. We're still very much marketing our hogs, but both are slowing down and shuffling the load to hold back pigs. And they're redirecting those products that were once headed to food service over to retail."
While the packing plant situation is rapidly evolving, it is just one of several major changes in the food industry. The industry has shifted from supplying demands from the food service sector, to grocery stores. While that retail demand has spiked, it still falls short of what has been lost.
"When you look overall at the shutdowns and what the coronavirus has done to our restaurants and the food service industry - schools, sporting events, and institutions – that's 25 percent of where pork heads," Sorenson said. "That market has been obliterated. It really no longer exists.
"People are still going to the grocery store and still hitting that meat case," Sorenson added. "We have very strong sales in retail, but it's not strong enough."
She said different dining situations create different demands. Diners at restaurants order one kind of pork, while a different cut is preferred at home.
"So specific cuts are getting hurt more than others."
Sorenson said the food chain is trying to pivot, but that's not something that just happens. It takes repackaging, relabeling, and moving meat that was in the supply line for food service, to retail.
"That doesn't happen on a dime because there is a patchwork of federal, state and local regulations around how you label, process, market food and all those things," Sorenson said. "So we're seeing a little bit of a glitch in our food chain, a food chain that normally runs pretty flawlessly."
A study from the ISU Center for Agricultural and Rural Development predicts the pork industry could lose about $2.1 billion this year. Sorenson estimates it to be closer to $5 billion by the time everything's said and done.
'So far, so good' for local farmer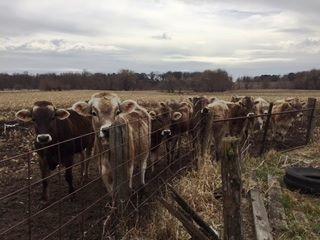 For local dairy farmer John Gilbert, things haven't been as bleak in recent weeks. Gibraltar Farms, is a family-run operation located between Hubbard and Iowa Falls. So far, Gilbert said, they've avoided many of the issues facing livestock farmers. But that's not to say Gibraltar Farms is immune.
"It's like a bad dream most days, but it could be worse," Gilbert said. "Life goes on and chores need to be done. Spring is coming and we need to get ready to plant. For a large part of it, it hasn't made a lot of difference."
Some of that has to do with diversity. Gilbert plants crops, raises animals and markets them in what some would call an alternative way by finding a special market for soybeans and a smaller, more natural process – Niman Ranch – to send hogs.
But one of the main focuses of the Gibralter Farms for the last 70-plus years has been dairy. Gilbert sends the product from some 50 to 60 Brown Swiss to Prairie Farms.
"So far there's been no indication that there's any problem," Gilbert said. "What we don't know is the effect on price. We haven't seen much. They have some flexibility with other products to see that member milk all gets taken and used."
Gilbert said stores may be having trouble keeping milk stocked, but that's not because of any shortage. In fact, some farmers have had to dump milk because dairies can't keep up.
"A lot of times there's not a lot of jugs in stores, but it's more of a supply chain bottleneck than anything I think," Gilbert said. "There's ample milk. Farmers are dumping it because they can't get rid of it. You can put corn in a bin, or feed livestock a little longer, but when the tank is full and there's more cows to milk, you have to do something with it. Milk doesn't store very well."
A milk hauler arrives at Gilbralter Farms every other day. Gilbert said he had more issues last year when the gravel roads in Hardin County were in such bad shape the truck couldn't get to the farm.
"So far we've been doing pretty good," he said. "You knock on wood quite often, and hope for the best, but we've always tried to make sure we didn't keep our eggs in one basket. We never wanted to have any more uncertainty than necessary. Sometimes we may not have taken the highest price, but we try to stay with a supplier or a market or whatever. Reliability is something we've tried to maintain. So far, so good I would say."