When Dena Zoske sent a text that the parade of Hubbard-Radcliffe Elementary School preschool staff was nearly to the Balvanz house, Dax Balvanz was already armed and ready.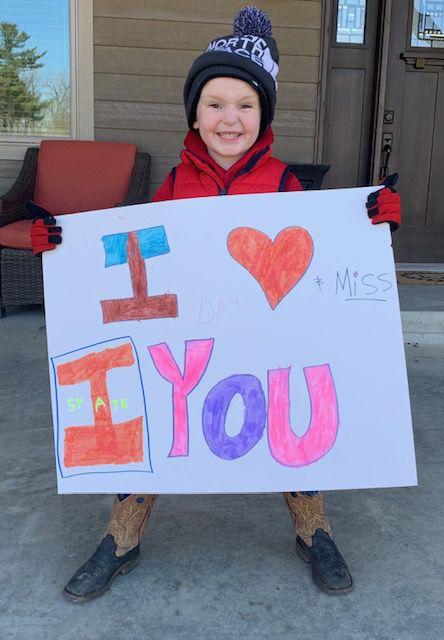 Dax had his homemade poster finished and waiting as he stood on the front step in anticipation of their arrival.
"He told me what he wanted it to say, and I helped draw it out. Mrs. Zoske is a Cyclone fan, so he wanted to make sure to add that. He drew this during his free coloring time at home," said Dax's mom, Sara Balvanz. "It was a joy to see his excitement. After he had it completed, he laid it by the door with his cowboy boots, so it would be ready to go when she arrived. He did all of this on his own."
After two weeks school shut down due to COVID-19, Dena, the preschool teacher at H-R and three paraprofessionals took to the streets to see their students on Sunday, March 29.
A teacher parade isn't new - many other schools have done them. But Dena's students live all over the district, so she figured she'd take the parade to them.
She sent an email to the families, offering the option of opting out if they felt the parade would be an invasion of their privacy or space. She knew where all of the students lived because she did home visits in the fall.
"I asked the three paraprofessionals that are with the program and they were all on board so our four vehicles caravanned around and we kept our distance. In the email that I had put out to parents I asked them to make sure that the kiddos and families kept their distance. But, it was really neat," Dena said. "A lot of them had signs, the preschoolers had pom poms, the older siblings were excited to see us too."
The parade took four hours to complete, with 36 stops along the way in six different towns (rural Eldora, Buckeye, Garden City, Zearing, Radcliffe and Hubbard). Dena mapped out the best route to eliminate zig-zagging and too much backtracking.
Before they reached a house, Dena (who was in the passenger seat while her husband, Chad, drove) sent a text to the family to let them know they were close.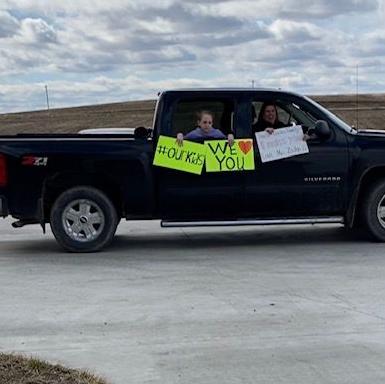 "There were a couple that stayed inside and just waved from the windows. There were others that were outside so that we could visit from a distance," said Dena. "It was just at that point where they needed something. They needed it as well as us to just see each other again. Even if it were just for a quick stop,"
Each stop lasted only a few minutes but it made a huge difference. Not only for the kids and their parents, but for Dena and the paraprofessionals as well.
It's a confusing time for kids of all ages, but especially for the youngest school-aged children, who miss their friends and teachers. It's also difficult for the parents.
"For me, it's been a challenge with all of our regular routines and schedules thrown out the window," Ashley Halvorsen said. "This homeschool thing is a whole new learning thing for them and me."
Her son Luke knew his teachers would be driving by the house, and he was waiting by the door for an hour anticipating their arrival. His reaction made it all worth it for his mom. After they left, Luke was confused - why couldn't get out of their cars? - but that they came.
"They (the teachers) really treat our kids like their own and would do anything for them," said Ashley. "I am very grateful for the teachers we have and for the school district we live in."
The gesture left a lasting impression on the kids as well as the parents they visited.
"Honestly, I have chills just thinking about it. These teachers spent their entire Saturday afternoon driving around the countryside and in multiple small towns to see these kiddos. The care and compassion this staff has for their students is out of this world," Sara Balvanz said. "This pandemic is such a unique time for everyone, and this simple gesture made not only Dax's day, it also made my day. In a time of a lot of bad look for the good in the simple things. This was simply the best."