In three weeks' time, Zalmay Niazy's friends, neighbors and complete strangers have signed petitions, written letters, called senators, and donated nearly $30,000 in an effort to help him stay in the United States.
Niazy moved to Iowa Falls six years ago after fleeing his native Afghanistan because of threats from the Taliban that they would kill him as retaliation for working as an interpreter for the U.S. military. When he arrived in the United States in late 2014 – first on a business trip, and then permanently after his family received threats – he applied for asylum. For two years Niazy waited to meet with immigration officials. It wasn't until after he stood up at a town hall meeting hosted by U.S. Sen. Chuck Grassley in Iowa Falls in early 2017 that the senator reached out to immigration officials and Niazy was granted an interview for asylum. It took another four years for him to learn that his application had been denied. In a letter received by Niazy last month, the U.S. government accused him of engaging in terrorist activity. The accusation is tied to an incident when Niazy was 9 years old. A member of the Taliban threatened to burn his house down if he didn't give them bread. Niazy complied.
Since news broke last month of Zee's predicament, the community has rallied around him. His supporters began meeting on May 25, with about a dozen people in attendance. Last week, nearly 50 people showed up. And this week, the crowd was even larger. The format of the meeting has remained the same: Zee and his supporters - mainly Mike Ingebritson – update the group on the contacts that have been made, and the money that's been raised. Ingebritson urged the audience at Tuesday's meeting to mention any connection or idea – no matter how small.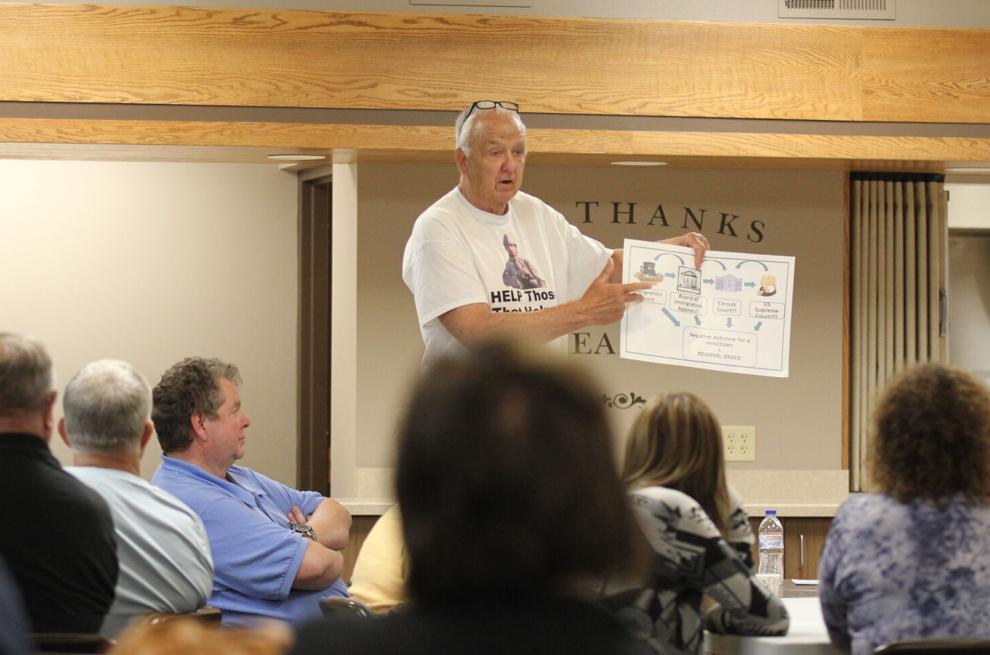 "Any little stone can start an avalanche," he told the audience.
Tuesday's meeting ended with a special treat: baklava dessert made by Zee's sisters, who are visiting Iowa Falls with their children. Soraya Sarwary lives in Washington state, and Muska Kochi lives in Texas, but when they heard about their brother's fight, they made plans to visit Iowa Falls.
"I have a sick child and I don't travel, but when I heard the news, I said 'I have to go, I have to be with Zee,'" said Sarwary. "We both just decided to come here to be with him for a while to support him."
Sarwary and Kochi were able to move to the United States after their husbands obtained special immigration visas (SIVs). The documents are reserved for people from Afghanistan and Iraq who have provided services to or worked for the U.S. military. Sarwary said the SIV process was easy for her family. It provided them with an apartment for six months, and gave them money and household items to start their lives in America. But Zee's journey hasn't been so simple.
"He started from zero here and he's worked so hard," said Sarwary. "Now everybody loves him, but he did it himself without nothing. He just believed in himself."
Zee cannot obtain an SIV because of the timing of his arrival in this country. The process of obtaining an SIV must start before they come to the United States. They apply for the visa, and after it's granted, they can move here. In Zee's case, he traveled to the United States, then found out he couldn't return to Afghanistan. His only option was to apply for political asylum for permission to stay in the U.S. With that now denied, his case has moved to immigration court. A judge will decide whether to grant asylum, or begin the deportation process.
Sarwary said it's painful to watch what's happened to Zee, and it's frightening to think about what could happen if he's forced to return to Afghanistan. 
"He can't go back to Afghanistan," she said. "They would not let him live."
And, the sisters said, it wouldn't take long for the Taliban to find him.
"They're everywhere," Kochi said. "Everywhere is dangerous."
Sarwary said Zee isn't like most people in Afghanistan. While many of them took jobs working with the U.S. military – as interpreters, cooks and guards – few believed so strongly in the U.S. mission.
"He thinks differently," she said. "He said 'America helps us. They build houses, hospitals, streets, and now we have to help them.' But not too many people think that."
The main push by Zee's supporters has been two-fold: to raise money for his legal fees, and to get word out about his story - mainly through the media.
His supporters are doing everything they can, hoping that someone will provide the key piece of information, or the connection to set right what they see as a miscarriage of justice.
"We're trying to look into what we know," Ingebritson said, "but there's a lot of stuff that we just don't know."