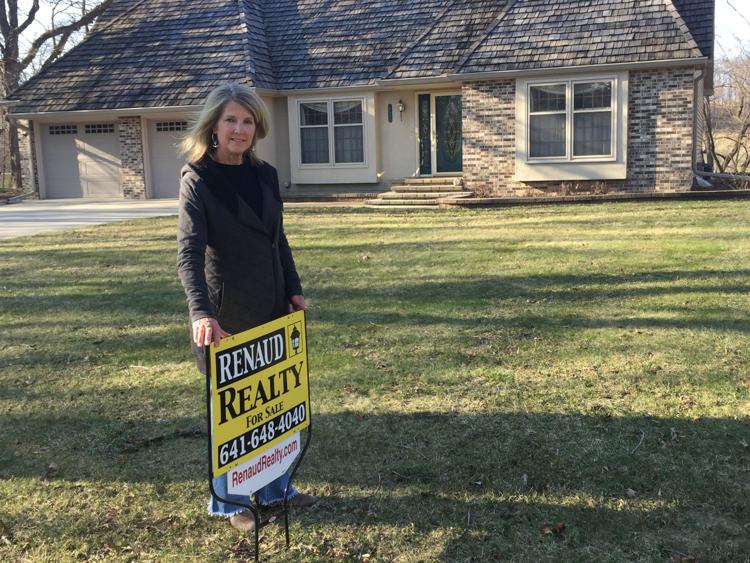 Many people aren't leaving their homes, let alone letting complete strangers in. That is the problem that realtors are facing as the coronavirus continues to spread across the state.
But people still need homes. And, said Owner/Broker Lisa Renaud of Renaud Real Estate in Iowa Falls, there are precautions.
Almost every industry is being impacted by the on-going novel coronavirus pandemic. For businesses as personal as real estate, the social distancing rules are often difficult to follow. And when a real estate agent shows a home, there is always a chance that a part of them - and the potential buyer - will be left behind.
"We are still pushing a lot of paper, but we haven't shown as many homes lately," Renaud said. "When we do, it's mainly been empty properties."
Even then, she, her agents, and potential buyers use disinfectant wipes before going in and when leaving. They also use them whenever a light switch, door handle or anything else needs to be touched.
"It varies a lot by week, month, and season," Renaud said. "We are just supposed to be starting our busy season, but it is getting a slow start."
Renaud said her office is currently busy closing transactions started before the pandemic reaction. What showings she and her agents have will look different than before.
"We still have quite a few closings coming up that we're working on, then after that, we first of all want people to stay healthy and safe, secondly we're trying to keep the market moving within the safe guidelines," Renaud said. "We're sanitizing our hands and practicing social distancing and offering sanitizing wipes on showings - wiping everything we touch as we enter and leave a home. Showing vacant homes makes it easier."
Renaud said she sees a little hesitation in the industry right now. It's too early to tell just what the impact of the pandemic is.
"Time will tell," Renaud said. "I always look at the glass half full, but am concerned that panic causes more issues than the virus itself."
Like Renaud, new Jennings Real Estate owner Brittany Liekweg has seen a decline in showings. Liekweg noted that her Iowa Falls-based office would average two to three showings a day prior to the outbreak. But with many of her homes still occupied, that has dropped only slightly. As Renaud noted, Liekweg said the vacant homes continue to be shown.
"Showings have dropped as owners aren't sure what the history of the potential buyer is," Liekweg said. "The vacant homes have been able to regularly been shown. But houses are still moving. Our front door is closed, but we continue to advertise and list and show homes, we just do it in a different manor."
Former Jennings Real estate owner Randy Jennings said the only thing even close to the coronavirus pandemic is the farm crisis of the 1980s.
"Locally we felt the effects of it and it was long term," Jennings said. "There were high interest rates at that time and a lot of homes for sale. Hoping this is more short term and will continue on as normal."
Just where this pandemic and its fallout will lead is a mystery. All realtors can do, Renaud said, is stay careful for their clients.
"The 'unknown' is always an interesting place to be," Renaud said. "We are just trying to keep positive attitudes and do what we can to serve our clients."
The main concern is keeping everyone safe, Liekweg noted, while weathering out the storm.
"We're making sure to take the necessary measures to keep buyers and sellers safe, so we are hopeful business goes back to as normal as it can," Liekweg said. "We are hoping it is short term. While it is slower than normal right now, we think it will be very busy once it is all over."
Jerry Price hasn't seen much drop off. The owner and broker of Homestead Realty in Iowa Falls said people need housing. And though they are closing on properties sold a month or two ahead of the pandemic, that need will always be.
"Business has been pretty good, but I can't predict the future," Price said. "I can't really complain about the business, it's not a total shutdown. We could use a few more listings right now, but we've had a decent spring."
It's just a different atmosphere, Price said. Masks and sanitizer are made available and social distances are kept. In essence, potential buyers are left on their own once a Homestead agent lets them in.
"We'll open up the house, then stand there or follow well behind," Price said. "We normally take people around the whole house room to room. We have a couple people who haven't taken their homes off the market, but just expressed a desire to not have people looking. We're finding ways to do everything. We're still showing homes, it's just a little different right now."