A refrigerator malfunction turned into a stroke of luck for 180 people who stopped what they were doing Wednesday afternoon to line up at the Iowa Falls Fire Station for a spur-of-the-moment COVID-19 vaccine shot.
Hardin County Public Health Officials were on their way to a scheduled vaccination clinic in Iowa Falls at 12:30 on Wednesday when they received news that a refrigerator at Medicap Pharmacy in Eldora had malfunctioned. A call to Moderna, which produces the vaccine, gave officials a deadline: distribute 180 doses of the vaccine by 11:08 p.m., or prepare to throw them out.
Hardin County Public Health Coordinator Rocky Reents, who has been working in recent days to build a list of businesses whose employees qualify for the next tier of vaccine eligibility, started calling those employers to get as many people as possible to the fire station to receive one of the quickly expiring doses.
"It was easier to call those employers and say 'Send your people to get their shot,'" Reents said. The alternative would have had public health calling people individually in hopes that enough of them could show up before the doses expired.
As word spread about the unplanned mass inoculation, there was no trouble finding enough willing vaccine recipients. The doses were gone by 5:15 p.m., and public health had to turn about 20 people away.
Jim Bates, a 58-year-old employee of Cargill in Iowa Falls was among those who received a vaccine on Wednesday. He said his boss told him about the available doses and he was happy to have the opportunity.
"It's a security thing, not so much for myself, but everybody around me," Bates said of his decision to get the vaccine. His wife, who works in the Denver School District, was vaccinated last week. Bates said he's looking forward to going to church and visiting people like his 2-year-old grandson.
"He has some breathing difficulties," said Bates, who lives in Aplington. "When he gets a cold it gets really bad."
For weeks, Hardin County Public Health has been focused on distributing shots to people who qualify for Tier 1 of Phase 1B of the vaccine rollout. That has included first responders, K-12 educators, child care workers and anyone age 65 and older. On Monday this week, the state expanded eligibility to Tier 2, which includes food, agriculture, distribution and manufacturing workers who cannot social distance, as well as people age 64 and younger who have underlying health conditions, as defined by the CDC. Despite that expansion of eligibility, and because of the limited supply of vaccine doses, Hardin County has stuck with vaccinating only people in Tier 1. Wednesday's emergency vaccination clinic was available to anyone who qualifies for Tier 2, on a first come, first served basis.
Jim Furns, a driver for Iowa Select, waited in line to get a shot Wednesday. He said he'd already completed the Hardin County Public Health form to get on the vaccination list, and was shocked to learn of the emergency vaccination clinic.
"I want to get through this pandemic," he said.
In total, Hardin County Public Health and Medicap Pharmacy vaccinated 420 people on Wednesday. There were 120 people age 65 and older at an Eldora clinic in the morning, and another 120 were scheduled for an Iowa Falls clinic in the afternoon, plus the 180 people who were vaccinated after the refrigerator malfunction.
"The goal is shots in arms," Reents said.
For those curious about their own eligibility, Reents said Hardin County will expand vaccine eligibility next week to include individuals in Tier 2.
"By next week we will be vaccinating people who are 65 and younger with underlying health conditions," she said.
Since December, Hardin County Public Health has partnered only with Medicap Pharmacy to distribute the vaccines. Other clinics and pharmacies in the county are still waiting to receive doses from Hardin County Public Health. The Hy-Vee pharmacy in Iowa Falls has been distributing doses of the vaccine that its company receives directly from the state. Eligibility is open to anyone in Tier 1 or 2.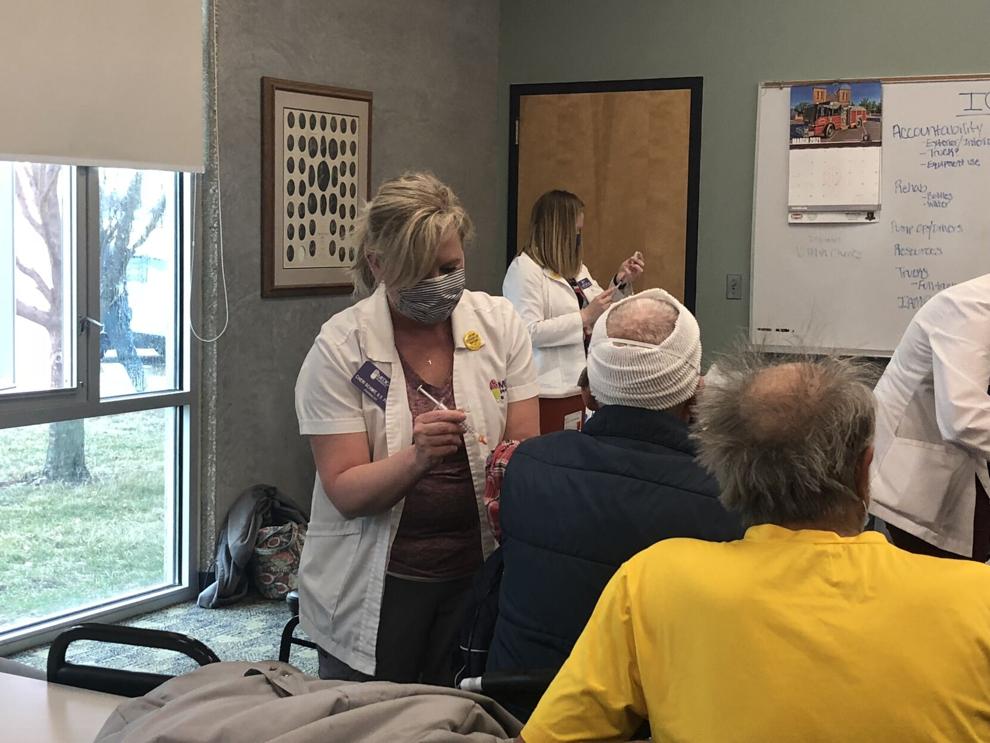 Reents said the doses doled out on Wednesday didn't completely deplete the local supply. Hardin County Public Health also had some vials in its freezer, and those will be used to administer second dose boosters and other scheduled vaccinations in the coming days. However, Wednesday's forced mass vaccination event could change some of the planned allocations in the coming days.
"We'll probably have to re-evaluate next week's first doses," Reents said.
Hardin County Public Health has been receiving 300 doses of the Moderna vaccine each week since early February. Reents said she hasn't been told to expect that allocation to change. She's also not heard whether the county should expect to receive doses of the Johnson & Johnson vaccine, which requires only one dose.
On Wednesday afternoon, the Iowa Department of Public Health was reporting that 1,966 Hardin County residents had been fully inoculated against COVID-19, and another 1,673 local residents had received their first dose of a two-dose vaccine. That's 21.6 percent of the Hardin County population that has started or completed the vaccination process. Of those, 2,816 people have been vaccinated using Hardin County Public Health's supply of doses.
Additional reporting by Tony Baranowski and Marissa VanWingen.