When Iowa Gov. Kim Reynolds announced on Tuesday new mandates for youth and high school sports intended to mitigate the spread of COVID-19, Iowa Falls-Alden Athletic Director Pat Norem took some comfort in the fact that the school district was already taking steps to keep athletes as safe as possible. 
As the number of COVID-19 cases in the state continues to grow exponentially, Reynolds announced new restrictions for indoor games and events that exceed 25 people in attendance. 
In summary, everyone age 2 or older will be required to wear a mask and maintain 6 feet of social distance. The big change for high school sports is the number of people who will be allowed to attend basketball and wrestling meets. Now, each athlete participating will be allowed two spectators per event, which will significantly decrease the number of people inside gymnasiums. 
The new requirements went into effect at 12:01 a.m. Wednesday and they are scheduled to last through Monday, Nov. 30 at 11:59 p.m. 
While there is an end to the proclamation, Norem said he expects it to continue through the winter sports season. 
"I feel good that our district was very progressive. We made those mask mandates in August and little by little everyone eased in that direction. I've said it over and over. Our kids have followed every rule remarkably well. Ninety percent of the adults have, but we've really struggled with that last 5 to 10 percent, and that's why we are in trouble now," Norem said. "Some people cannot do it (wear a mask) on their own, they have to be told to do it. That's the reality we face." 
Norem said he met with Superintendent Tony Neumann and High School Principal Kyle Hutchinson on Monday to draft a plan that would have reduced capacity in gyms to four guests per varsity athlete and two guests for every lower level athlete. Reynolds' announcement Wednesday changed those plans. 
At South Hardin schools, Athletic Director Matt Thompson said the NICL athletic directors had decided to allow fans in the stands for winter sports. Now they're back to square one on planning. He said on Tuesday that they did not yet know whether they would be issuing tickets per athlete or how it will be limited.  He plans to have some sort of streaming service available for spectators, but didn't have details about those plans on Tuesday.   
South Hardin already had a mask mandate in place for volleyball and for when fans were in the stands at football games.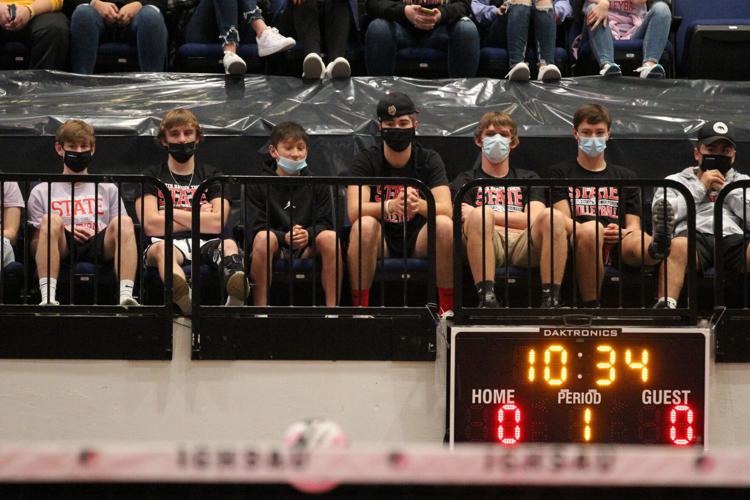 With two of the three fall activities outdoors, Thompson said he felt like everything went well and he's optimistic about the winter seasons. 
"I think we will be able to get through winter sports with some of these different strategies being put in place," Thompson said. "I'm sure there are families that want to be there, but I think everyone in the conference, in terms of the NICL, will be livestreaming events so that will be a definite plus." 
Similar to the fall season, school athletic departments will experience a revenue shortfall. IF-A's recent football season included three regular season games and one postseason contest. Typically, Norem said the football program brings in between $20,000 to $25,000 each year. He expects that number to fall to approximately $7,500 this season. 
Percentage-wise, the IF-A athletic director projects between $20,000 to $22,000 combined for basketball and wrestling during a normal season. That number will likely drop to $5,000 to $6,000. 
As basketball and wresting practices get underway, school officials are taking every step necessary to keep athletes as safe as possible. This week, IF-A announced that all youth athletic groups and outside organizations would be prohibited from using school facilities for practices and events. Both winter sports are high contact sports, and limiting traffic flow in the building by a number of groups led to that decision. 
Body wipes have been purchased for the wrestling team, and all wrestlers will be encouraged to shower immediately before and after practices. Disinfecting will be done as much as possible, while athletes will wear masks during low intensity portions of practice. 
Basketball staffs will be required to sanitize basketballs frequently. 
"We need total transparency with our athletes. If they feel sick or show symptoms, they have to tell us and not be selfish," Norem said. 
During the fall season, the IF-A volleyball team lost a few Saturday tournaments on its schedule. As of right now, Norem said the wrestling team's tournament schedule remains in place, but there could be interruptions due to the high volume of teams participating in one tournament.  
As of Nov. 11, he said only two junior varsity wrestling tournaments had been canceled, but with the increase in the number of COVID-19 cases in the county, it's anyone's guess how the season will play out. 
IF-A's basketball and wrestling cheerleaders will be limited to home events, and will not travel to opposing schools. On the flip side, Norem said he has asked opponents not to bring cheerleaders to Cadet Gymnasium. 
Due to limited attendance at IF-A games/matches, fans also have the option to view home events on the NHFS Network. To watch, go to www.nfhsnetwork.com and search Iowa Falls-Alden. There will be a button available to click to subscribe for a monthly rate of $10.99 per month, or $69.99 per year. Many state schools use the site, and it is a good way to watch events - without play-by-play -  from home. 
"Our main objective is to keep our kids safe. If a team or student is contagious or in quarantine, we will be shut down. If we go to online learning, it will all be shut down," said Norem. "If I were the public and wanted to see us complete the winter sports season, I would do everything in my power to wear a mask while out in public."