It used to be common place on Friday and Saturday nights. Lines of cars could be seen for hours at a time, scooping their small-town "loops." Now, amid the novel coronavirus pandemic, the cruise is coming back.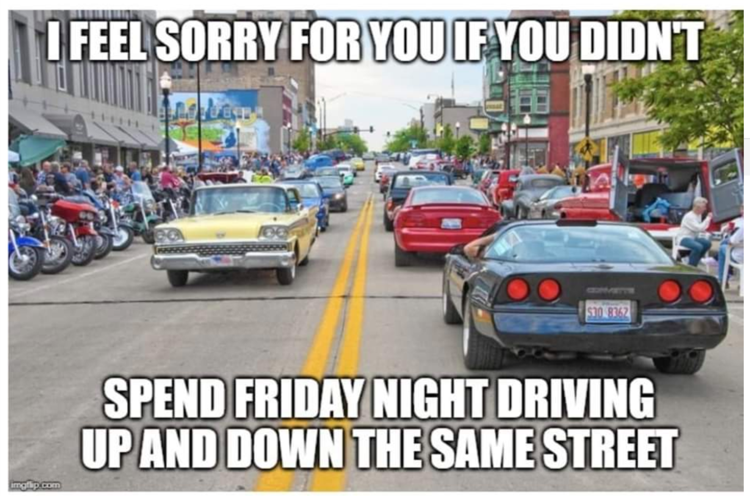 Roxanne Lindquist is helping to bring the cruise back to Iowa Falls. The first one will be this Friday night, March 27. After a simple discussion among friends, and with a Facebook post, it went from something small to more than 160 people wanting to join. Based on that, Lindquist expects to relive the golden age of scooping the loop.
"I never imagined we would have this many people wanting to cruise the loop," Lindquist said. "It all started while social distancing at Walmart talking to Elyse Schon and Jody and Brandon Thies about things we could do with our kids right now because they are bored being home."
They all stumbled on the idea of a cruise at the same time.
"We were like, 'You know what would be cool? We should cruise the loop,'" Lindquist said "We said we'd make it happen, not expecting it to explode. We have 160-something responding that they were going to cruise the loop with us."
Lindquist said she remembers her days cruising Washington Avenue from what is now the Barlow Library to Oak Street and then south to Pizza Hut. The route has changed a lot since Don Jones used to cruise it. He remembers the name of every hangout lot and turnaround business. It started at the old high school, which is now Rock Run Elementary, and meandered east and north. A&W, now O'Reilly's Auto Parts, was the turnaround point then.
"Classmates were the carhops," Jones said. "They were fun to tease and of course we had to try to grab a root beer mug from a window tray. They were always a prize."
The Iowa Falls cruise will be Friday at 7 p.m. Lindquist said there is no official route yet.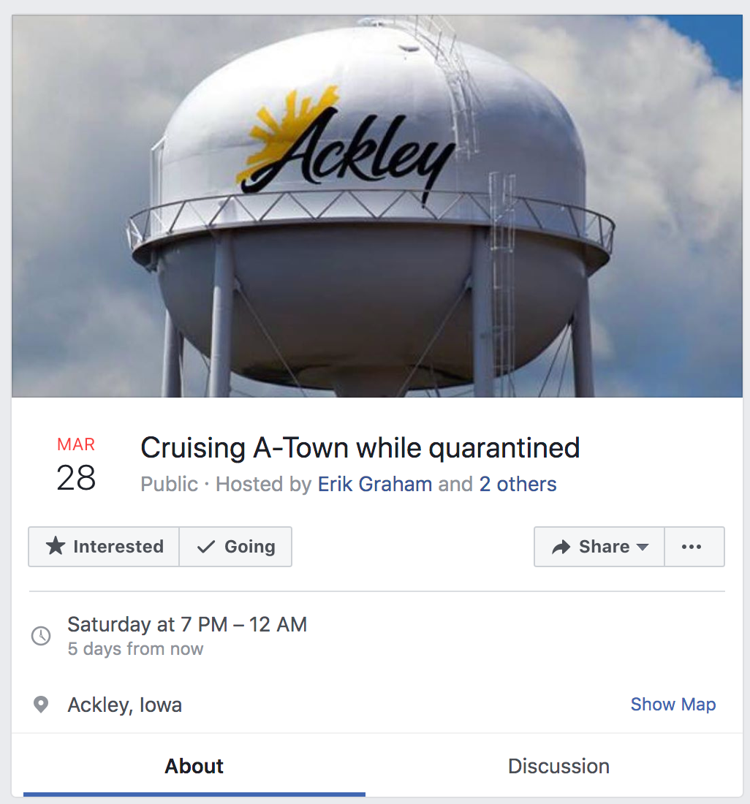 Erik Graham is helping organize a similar cruise in Ackley on Saturday night, but it wasn't his idea alone either. It was a question on a Facebook page about whether cruising the loop is considered social distancing. That led to an impromptu cruise last Saturday. In turn, that led to this Saturday's planned cruise.
"After about an hour of cruising and having the on-duty police officer stop us to telling we were called in for honking our car horn, we headed home," Graham said. "But after reading the responses on social media about our impromptu cruise, I decided to make an event for Saturday."
Graham and Lindquist both said the respective cruises are just fun ways to get out of the house while still practicing social distancing. That's something they said is needed by a lot of people in the face of the pandemic and the rules associated with it.
"With all that is going on with COVID-19, it's a stress release, a way to get folks out and about without impeding on one another's six-foot personal bubble," Graham said. "It should help ease the tension for a bit that we all get from watching the news. Plus, it brings back nostalgia of what use to be."
The Ackley loop hasn't changed much over the years, nor have the stop spots along the way, although the businesses along the route have. The triangle park uptown that splits Main Street and Park Avenue was the centerpiece, though. Former cruiser and longtime Ackley Police Officer Pat Scallon remembers the route well.
"Around Main Street and Park Avenues, then down Franklin Street to US 20 to the Holiday Station, turn through Holiday back onto 20, on to Shugar's Super Value and the old Bowling Alley then back around Main Street again," Scallon said. "Gas was 33.9 cents a gallon, though."
An official map will be released on the Cruising A-Town Facebook page.
Graham wants it to be a fun thing as well. He said people need an escape, especially now.
"My wife Cari and I plan on packing up our kids again and staying in Cari's van to keep ourselves from being potentially exposed," Graham said. "I'd encourage others to be mindful of their social distancing and keep their vehicle occupied with their immediate family, significant others, spouse or date(s). But most importantly, have fun for a few hours Saturday night to take our mind off this pandemic in a safe, fun way."
Lindquist remembers the fun she had cruising the loop back in her day. She's planning to break out her yellow Cadet cheerleading jacket, in fact. For now, it's an escape from the news for a while, and needed time out of the house.
"We don't really have anywhere we can go right now," said Lindquist, mother of three. "This should be a fun, safe thing and hopefully we can do it again in the summer. Maybe figure out a way to make it a fundraiser. But this time around, I think we all just need to get out and say hi to one another."