Seven Hardin County residents have tested positive for COVID-19 since Tuesday this week, increasing the total cumulative local case count to 116 since testing began in March. In the last week (since July 16) there have been 20 new cases reported.
At least 60 of the 116 infected Hardin County residents have recovered, leaving 56 still classified as having the disease.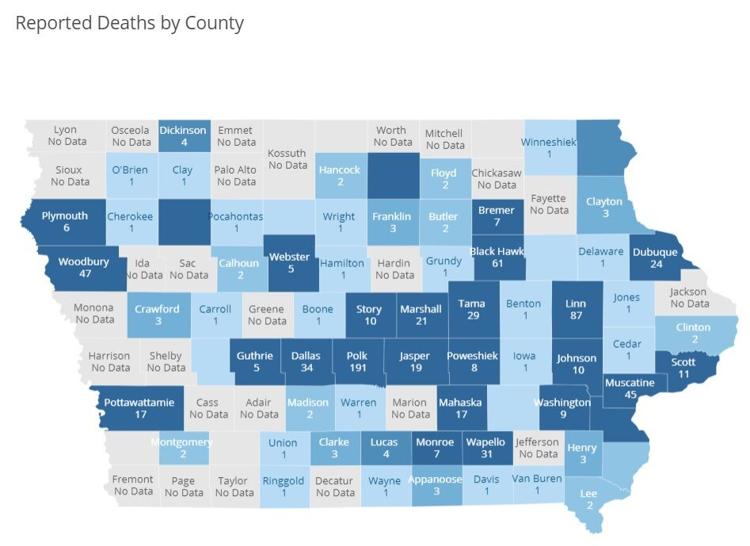 The state was reporting on Thursday morning that 815 Iowans have died of COVID-19, but there have been no deaths of Hardin County residents. Two of Hardin County's neighboring counties, Franklin and Grundy, reported their first deaths this week.
The ages of the seven new cases were not immediately available on Thursday. Rocky Reents, the public health director at Greenbelt Home Care/Hardin County Public Health announced earlier this week that the agency is shifting to weekly updates rather than daily, as has been the case since April. From now on, the agency will distribute COVID-19 case count updates on Mondays.
"Cases will continue to increase and we feel that the State is doing well overall in reporting pertinent information related to cases," Reents said.
The state publishes COVID-19 data on its website, coronavirus.iowa.gov. It has occasionally been incorrect, mistakenly assigning cases to Hardin County when the person was a resident of another county.
On Thursday morning the state site was reporting that 2,240 Hardin County residents have been tested for COVID-19. That's about 13 percent of the county's population.
The percent of positive COVID-19 tests among young people is higher in Hardin County than statewide. Across Iowa, 54 percent of positive tests are in people age 0-40, but in Hardin County 63 percent of the positive cases are in people age 0-40.
Public health officials continue to urge the public to take precautions to prevent the spread of COVID-19. That includes staying home if you feel ill; covering coughs and sneezes; disinfecting frequently-touched surfaces; avoiding touching your eyes, nose, and mouth with unwashed hands; avoiding close contact (less than six feet of distance) with people who don't live in your household; covering your mouth and nose with a cloth mask when around others; and washing your hands often with soap and water for at least 20 seconds.
People with COVID-19 have reported a wide range of symptoms including fever or chills, cough, shortness of breath or difficulty breathing, fatigue, muscle or body aches, headache, new loss of taste or smell, sore throat, congestion or runny nose, nausea or vomiting and diarrhea. If you are experiencing any of these symptoms, you're instructed to call your health care provider before going into the office. They will walk you through a series of questions and may ask you to report to a testing site. Hansen Family Hospital in Iowa Falls is able to test for COVID-19, but patients should not show up at the hospital. Call the HFH COVID-19 phone number at 641-648-7113 first.