Six new COVID-19 cases since Thursday morning have pushed Hardin County's confirmed case total to 52 since March.
On Thursday morning, Greenbelt Home Care/Hardin County Public Health was reporting 46 confirmed cases, but at 4 p.m. the county agency updated that number to 49, announcing that two of the new cases were in patients age 18-40, and one is age 41-60. Overnight Thursday into Friday, the state's coronavirus website, which tracks confirmed cases, test numbers and deaths, added three more cases for Hardin County, bringing the total to 52. Information about the ages of those three new patients was not immediately available Friday morning.
In the last seven days (June 12-18), the county has recorded 10 new COVID cases. In the seven days before that (June 5-11), the county reported 17 new cases.
On Thursday, Iowa Falls-Alden High School announced one of its student athletes on the baseball team tested positive for COVID-19 this week, after attending practice on Tuesday. As a result, the team's practice and play has been suspended for 14 days.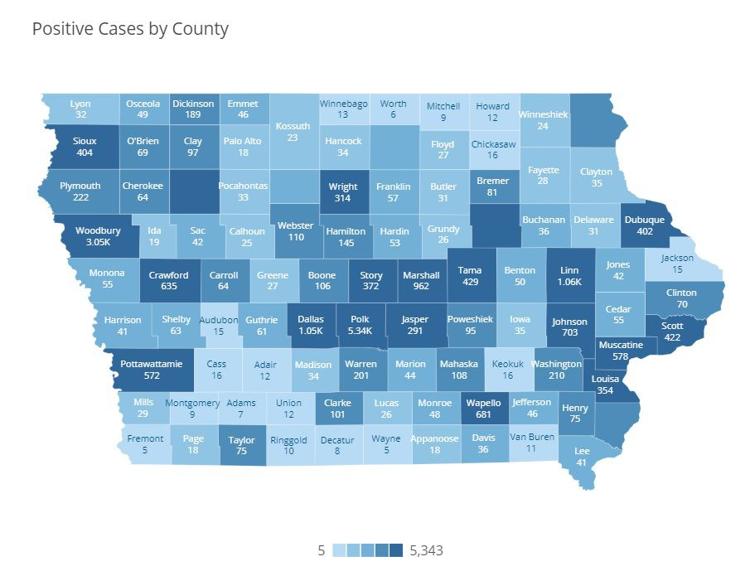 As of Friday morning, the Iowa Department of Public Health was reporting that 1,114 Hardin County residents have been tested for COVID-19. That's one of 15 local residents, or about 6.6 percent of the county's total population.
Of the 52 cases confirmed in the county since March 26, 16 are reported to have recovered from the illness. No Hardin County residents are reported to have died from COVID-19, although statewide, 680 Iowans have died.
The state's coronavirus website was revamped Thursday night, and now includes data about pre-existing conditions in people who've tested positive for COVID-19 and those who've died of it. Gov. Kim Reynolds has said many times in the last three months that the majority of the people who've encountered complications from the disease or died of it were older or had pre-existing conditions. According to the state website on Friday morning, of the 680 Iowans who have died, 472 - about 70 percent - had a known pre-existing condition; 43 had no pre-existing condition; and in 165 cases it's not known if the person had a pre-existing condition. Find the deaths analysis page here.
Of the 25,127 Iowans who've tested positive for COVID-19, the state website reports that 12,507 - about 50 percent - did not have a pre-existing condition; 6,456 did have a pre-existing condition; and in 6,164 cases, it's not known whether the person had a pre-existing condition. Find the case analysis page here.
Symptoms of COVID-19 include cough, fever (100.4 or greater) and shortness of breath. If you are experiencing any of these symptoms, you're instructed to call your health care provider before going into the office. They will walk you through a series of questions and may ask you to report to a testing site. Hansen Family Hospital in Iowa Falls is able to test for COVID-19, but patients should not show up at the hospital. Call the HFH COVID-19 phone number at 641-648-7113 first.
Iowans are also asked to complete a health assessment on the state's TestIowa website. The assessment will ask you to enter information about your health and workplace, and will then give you the option of scheduling a COVID-19 test at a drive-through TestIowa site.
Find more county, regional and state data on the state's coronavirus website.