Students and families in the Eldora-New Providence and Hubbard-Radcliffe school districts must commit to at least a semester of all in-person or all at-home learning, according the the South Hardin Return to Learn plan released Friday.
The plan's release comes on the heels of an announcement by the state on Thursday that detailed the benchmarks school districts will use to decide whether to educate students in-person or online.
Dr. Adam Zellmer, who serves as superintendent for both districts, said the schools will provide the online learning platform Edgenuity, but students must commit to online only for the first semester because the districts are charged by Edgenuity on a per-student basis for the service.
Zellmer said he released the plan today to give people almost five days to read through it before commenting on it at a joint school board meeting Tuesday evening. He also said even if the plan is approved by the school boards, some things will most likely be different moving forward.
"It's a continually evolving effort from the Eldora-New Providence and Hubbard-Radciffe school districts," Zellmer said. "This plan is going to evolve. It's going to change every day."
According to the plan, students who do choose to return to school on campus will only attend every other day for the first two weeks of the year. Students with surnames beginning with letters A through L will attend the first day of school on Aug. 24. Students with surnames beginning with M through Z will attend the next day, beginning a rotation. 
Zellmer said there are multiple reasons to start the year this way. He said it will allow teachers to more easily assess students' academic levels and will provide a trial run of a hybrid learning model.
"It's going to allow us to be able to teach the new procedures and mitigation strategies," Zellmer said. "It's going to help us to better monitor and understand and respond to the social, emotional, behavioral and health needs of students."
According to the plan, schools will provide two cloth face coverings, a face shield and a portable desk shield for all students and staff. 
"It will be the district's expectation that staff and students will utilize these resources when unable to maintain a social distance of six feet (example: buses, hallways, bathrooms) and when working in close contact with others for 15 or more minutes. This will apply to all students at all levels," the document states.
The plan admits that wearing one specific type of face covering for the entire day isn't practical or feasible.
Every South Hardin student has their own computer and will be expected to take the device home every evening in case there is an outbreak and all students need to learn from home.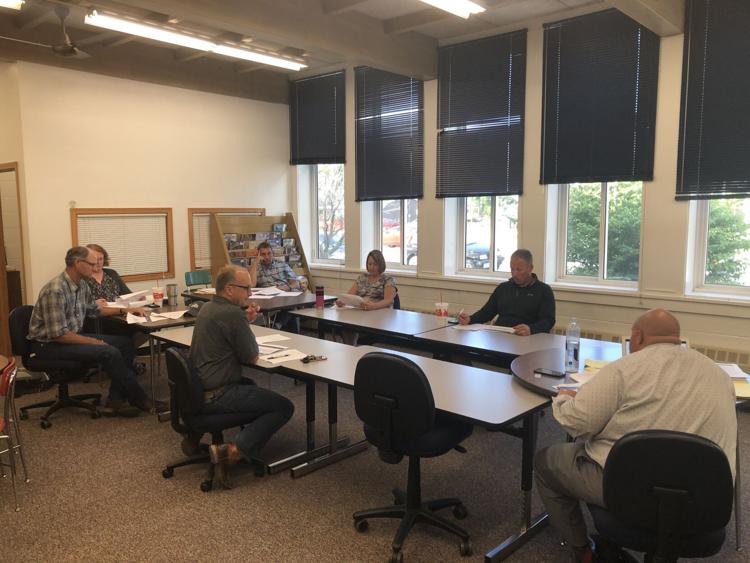 Cleaning efforts in classrooms and buses will also be stepped up. The districts have purchased electrostatic sprayers to help aid in that effort. Zellmer said specific protocols might be different at different buildings due to the age and needs of the students.
Zellmer said schools are still awaiting more guidance from the state regarding gatherings such as sporting events or concerts. He did confirm that middle school and high school sports will take place. On Wednesday, the state's athletic unions released guidelines for fall sports.
He added that students who choose online only learning may not be eligible to participate in extracurricular activities, but that has not been decided. 
"The argument being made around the state is that students who can't take part in in-person learning for whatever reason, due to the pandemic, then those same reasons should be why they can't participate in extra-curricular activities," Zellmer said.
Students will still have access to the school lunch program even if they decide to learn from home. 
Families will be asked again in December if they would like to learn in-person or online. Zellmer explained the plan himself in a video here.