Forty-nine Hardin County residents tested positive for COVID-19 in the last week, making it the fifth consecutive week that the county has had high transmission of the virus according to guidelines established by the Centers for Disease Control and Prevention.
In addition to the 49 new cases of COVID-19, the Iowa Department of Public Health reported on Wednesday that one more Hardin County resident has died of the disease, raising the death toll to 46 people since August 2020.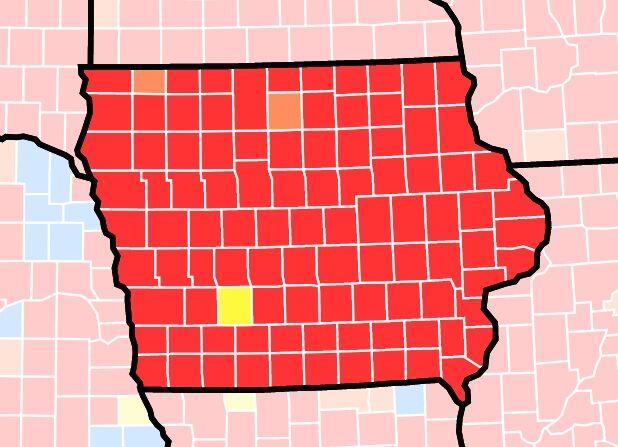 According to coronavirus data released by the Iowa Department of Public Health on Wednesday, a total of 2,125 Hardin County residents have tested positive for COVID-19 since March 2020. Of those, 1,909 are classified as having recovered, and 46 have died. That leaves 170 known active infections as of Wednesday. The number of active infections has increased at a steady pace over the last month, from 25 on July 28, to 100 on Aug. 11, and 170 this week.
It is unclear whether any of the cases in the last week were staff or students at local schools, which have been back in session for a week and a half. Unlike last school year, when local districts reported weekly case numbers, this year the districts are not making infection data available. Hardin County Public Health Coordinator Rocky Reents said school districts are no longer required to report positive cases of the disease to her.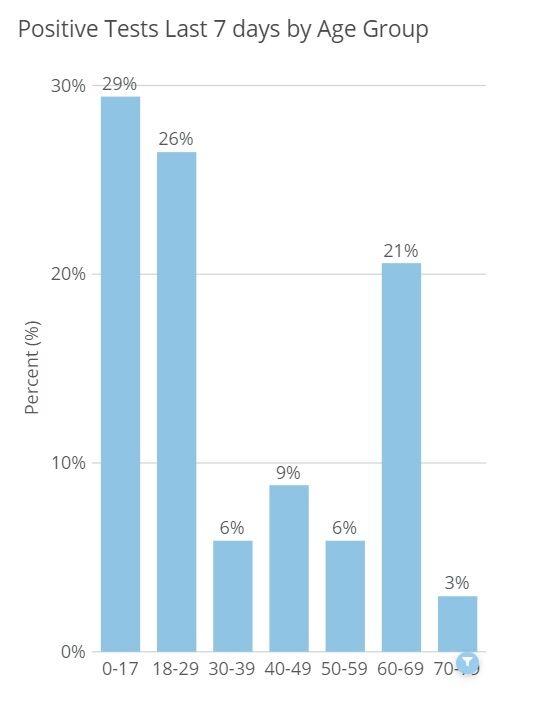 However, the state's coronavirus website reports that of the new Hardin County cases reported in the last seven days, 29 percent were in children age 0-17. Twenty-six percent of the new cases are in people age 18-29, and 21 percent are in Hardin County residents age 60-69. The rest are spread out across the other age ranges.
Hospitalizations across the state have increased again over the last week, from 498 Iowans hospitalized last Wednesday, Aug. 25, to 524 this week. Last week, 51 Iowans were on ventilators, and this week that number was up to 66. Hardin County hospitalization data had not yet been released for the week as of 9 a.m. Thursday.
Testing demand increases
The number of total COVID-19 tests being administered to Hardin County residents has been up in recent weeks, as the number of coronavirus cases in the state has increased. Reents said her agency has seen that demand first-hand. The office, which also houses Greenbelt Home Care in Eldora, is the only place in the county where the public can pick up at-home TestIowa COVID-19 test kits.
"They have been flying out the door," Reents said on Wednesday.
The kits were introduced this summer, replacing the drive-through TestIowa sites that had served the state for more than a year. Now, Iowans who want to use TestIowa for COVID-19 testing have to either pick up a test kit from one of dozens of locations across the state, or request one by mail. The PCR tests include instructions for collecting a person's saliva. Once the sample collection is complete, the tests are mailed to the State Hygienic Labs for testing. Test results are ready about 24 hours after the sample is received by the lab.
That's not the only way to be tested for COVID-19. Reents said Hardin County Public Health is also able to test people at their offices, either with a rapid antigen test or a nasal swab PCR test.
The McFarland Clinic locations in Iowa Falls and Eldora are also administering COVID-19 tests, as is Hansen Family Hospital, although not in the same way it was earlier this summer. Interim CEO George Von Mock said the hospital made the decision several weeks ago to stop doing "travel tests." Occasionally, when people are planning to travel, the place they're going requires a negative COVID-19 test before they can be admitted. Earlier this summer, the hospital was administering those tests, but with the recent surge in testing demand, that has stopped.
"The lab had to pull back on that because of supply," Von Mock said. "That's one of the biggest concerns right now – having enough tests."
If a person has been exposed to COVID-19, or they have symptoms of the disease, they're instructed to contact their provider, or call one of the medical clinics near them – whether that's Hansen Family Hospital or McFarland Clinic. Tests can be arranged through those offices.
To request an at-home TestIowa COVID-19 test kit, visit testiowa.com.
To contact Hardin County Public Health, call 641-939-8444.
Vaccinations continue
Hardin County saw another small gain in vaccinations over the last week. The Iowa Department of Public Health reported that as of Wednesday, 7,925 Hardin County residents were fully vaccinated against COVID-19. That's 47 percent of the county's total population, and an increase of 90 people from one week earlier. Fifty percent of the county's population has had at least one COVID-19 vaccine dose.
Reents said her office is setting up vaccination clinics in some places throughout the county, including Ellsworth Community College, the Hardin County jail and the Boys State Training School, which recently reported COVID-19 cases among students and staff. Those clinics are intended to vaccinate people who have not yet received the vaccine.
Information about vaccine availability can be found online at vaccinate.iowa.gov.