Coronavirus activity in Hardin County has remained low in recent days, but health officials warn that the more contagious delta variant of the disease is the predominant strain in Iowa, and those who are not fully vaccinated could contract it and become ill. COVID-19 hospitalizations in the state have inched up in recent weeks, from a low of 46 on June 24, to 80 on July 7. The state reported one Hardin County resident was hospitalized as of July 7.
Hardin County has recorded 1,893 cases of COVID-19 since testing began in March 2020, according to the Iowa Department of Public Health's coronavirus website. That's an increase of 14 cases in the two weeks since Monday, June 28. But Hardin County Public Health Coordinator Rocky Reents said she suspects that number is either incorrect, or does not reflect recent virus activity. Reents said the disease tracking software she uses, which displays identifying information about each individual who's tested positive - including when they tested positive - did not report any new cases between July 2 and 9, even though the public-facing state coronavirus website showed nine new cases. And, she said, while her software did show five cases the previous week, one of them was a positive test from March that was just added to the system in July.
"I don't know what's going on," Reents said Monday. "I've asked the state and they haven't said anything about it yet."
A glitch in the state's disease tracking software was erroneously backdating positive tests last spring and summer. The problem was discovered by reporters and residents who were using a graph on the state's website that showed the number of new cases each day. After the problem was reported by the media, the glitch was repaired. The graph that showed daily case reports was removed from the state's coronavirus website in February.
Confusion around the number of cases being reported on the state's website comes as the Iowa Department of Public Health begins to phase out its coronavirus website. Last week, the Iowa Department of Public Health shifted from real-time reports of new cases, to weekly updates. The state plans to decommission its coronavirus website later this summer and switch to COVID-19 reporting that's similar to the state's weekly influenza report.
Vaccinations continue
COVID-19 vaccines are now abundantly available to anyone who wants one, and in Hardin County state data show that older residents are more likely to be vaccinated than younger people. According to data provided by Hardin County Public Health, as of July 9, 81.2 percent of Hardin County residents age 65 and older had been fully vaccinated, while only 14.2 percent of 12- to 15-year-olds had received both shots.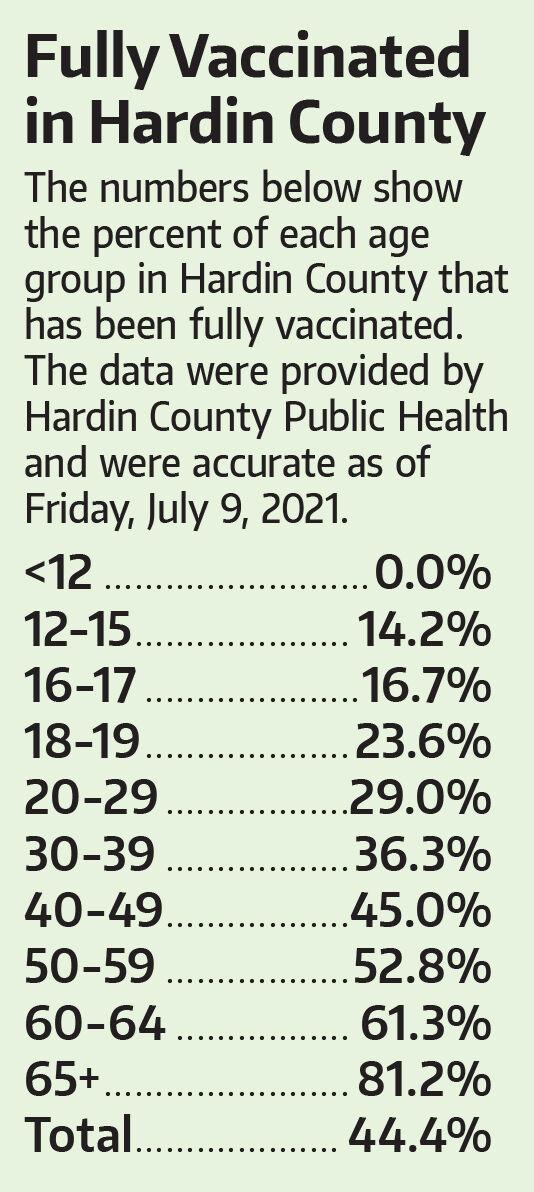 About 44.4 percent of Hardin County's population has been fully vaccinated against the virus. That's far short of President Joe Biden's goal of having 70 percent of all adults fully vaccinated by July 4. Hardin County ranks 37th among Iowa's 99 counties for the percent of its total population that's fully vaccinated. Only Johnson County met Biden's 70 percent goal.
When Hardin County is compared with its neighbors, only Franklin County has a lower percent of its residents vaccinated against COVID-19. Hardin County stands at 44.4 percent vaccinated, while Franklin County reports 42.1 percent vaccinated. All of of Hardin County's other neighbors have higher vaccination rates: Butler (47.1), Grundy (49.3), Hamilton (49.8), Story (50.6) and Wright (45.7).
The Moderna and Johnson & Johnson vaccines are available to people age 18 and older. The vaccine made by Pfizer can be administered to people age 12 and older. No vaccine has been approved for children under 12.
Search for vaccination rates per age group per county (as of July 9, 2021) in the table below.