As the state of Iowa moves into the next phase of COVID-19 vaccinations, the Department of Public Health has updated the vaccine information available on its website. But some local public health officials worry the information on the website may give the public a false sense of vaccine availability.
Last week Gov. Kim Reynolds announced the Iowa coronavirus website's vaccine administration information would be updated from a PDF format to a "dashboard" that reports information about the number of vaccines that have been administered, both by the county giving out the shots and the county of residence of the people receiving the shots. That new dashboard was added over the weekend.
The site also includes a tab that shows "vaccine providers." The map shows seven locations in Hardin County where vaccines can be administered. The only problem is they don't have any vaccine doses to administer.
Hardin County has received 1,200 first doses of the Moderna COVID-19 vaccine. The first 600 were used to vaccinate health care workers across the county. Some of those doses also went to residents and staff at Grand JiVanté, which chose not to use the federal long term care vaccination program. Another 200 doses of the vaccine were administered to people age 65 and older at two clinics last week.
The county was notified last Wednesday that it would receive another 100 first doses of the vaccine. On Friday, that amount was increased to 400 doses. On Sunday, Hardin County Public Health Coordinator Rocky Reents sent an email announcing that those 400 doses will be split in half, with 200 going to people over age 65, and 200 going to K-12 educators, who are in the first tier of Phase 1B of the vaccine rollout program. The vaccines for senior citizens will be administered at two clinics this week - one in Iowa Falls and one in Eldora, and public health officials are working with local school districts to set up clinics for educators to receive shots.
All of the county's 1,200 shots – and the follow-up booster shots that have been administered thus far – have been doled out by Medicap Pharmacy in Eldora. Hardin County Public Health announced in December that it had partnered with Medicap to administer early doses. It said that as more vials of the vaccine are allotted to the county, those vials will be distributed to other vaccine providers who have signed up to administer shots.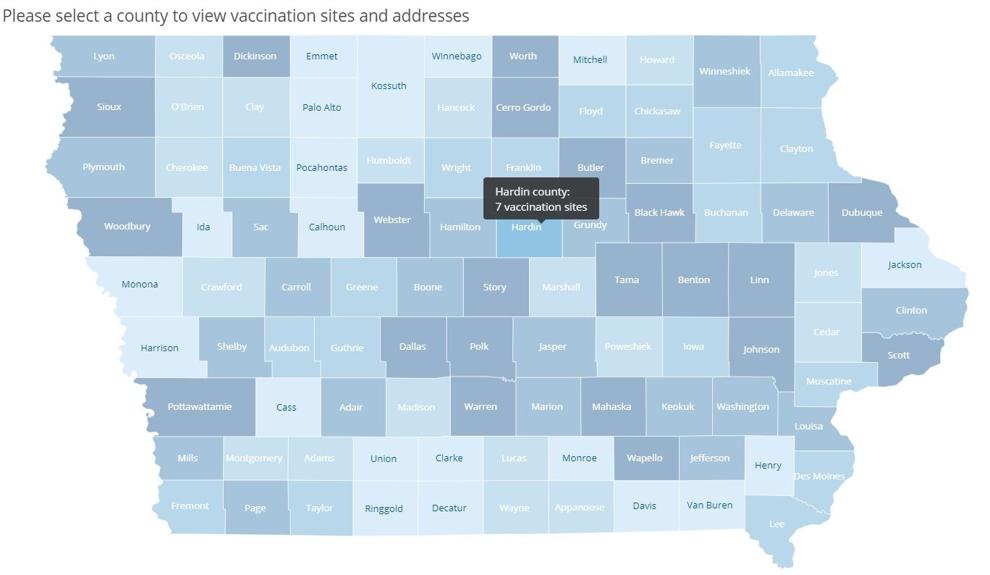 Those providers are the seven listed on the state's website:
Greenbelt Home Care, Eldora
Medicap Pharmacy, Eldora
Hansen Family Hospital
Hy-Vee Pharmacy, Iowa Falls
NuCara Pharmacy, Ackley
Clinic Pharmacy, Iowa Falls
Walmart Pharmacy, Iowa Falls
The state website warns that "There continues to be a very limited supply of COVID-19 vaccine in Iowa," and "Each provider displayed after selecting a specific county manages their own vaccine appointments. This tool is intended [to] help make provider information easily accessible to Iowans."
Reents, who has fielded complaints from other would-be vaccine providers in recent weeks and whose office was inundated with phone calls last week after the public learned that vaccine appointments had been scheduled using a list whose existence was previously undisclosed, said she sees a potential for people to be confused by the new website dashboard, and she's heard from other local public health agencies who worry the same.
Hardin County residents who have access to the internet are encouraged to fill out a Google form to let Hardin County Public Health know they're interested in receiving the vaccine. Those forms will be used to created lists of people who can be called when vaccine doses become available, and as those people on the list become eligible to receive the vaccine. People who don't have internet access are invited to call Hardin County Public Health at 641-939-8444. When information about local doses of the vaccine becomes available, it will be shared by Hardin County Public Health on its Facebook page.