Nearly every local business has been impacted by the novel coronavirus pandemic, according to a recent survey conducted by the Iowa Falls Area Development Corporation.
The IFADC sent the Business Impact Survey to 86 local businesses last month. Twenty-seven businesses from a variety of sectors responded. Of the respondents, 96 percent reported that their business has been affected in one way or another, from workforce, to supply chain and more.
Mark Buschkamp, executive director of the IFADC, said the goal of the survey was to find out what's happening across all sectors in the local business community.
"It had a nice cross section," he said. "We had people in wholesale trade, health care, construction, finance, insurance, real estate, ag manufacturing (and more). It was a bit of a taste of a variety of businesses."
Buschkamp said he's concerned about how long it will be before people feel comfortable going out and doing things. He said he doesn't want anyone who's uncomfortable to return to normal life before they're ready.
According to the survey results, almost 58 percent of businesses have seen a decline in sales and overall business. Additionally, more than 42 percent of employees are working remotely. Interestingly, 76 percent of the survey's respondents said they were operating at between 50 and 100 percent capacity.
Buschkamp said the most important benefit of the survey was getting an idea of what exactly is impacting the local businesses, and then tailoring his work to address those concerns or needs.
"There's been several things that I've done already," he said. "There's some information out there they didn't have. So we sent that out. All of the different sources of information on what different protocols businesses are taking and how they're rearranging shifts, along with financial resources."
Buschkamp said lack of child care has been a problem with schools being closed since March 17 and now the rest of the 2019-20 school year being canceled. The community already had a child care shortage, but with the school district's after school program closed and other day cares offering limited or no care, the need has increased. 
"At that time we worked with Wiggles and Giggles Day Care getting them opened up," Buschkam said of the planned expansion of an existing child care home to a child care center. "We sent information out letting people know there is a day care that's going to be opening. If your employees are having trouble finding day care, here's the contact information."
Renee Ubben, owner and director of Wiggles and Giggles Daycare, has been planning for more than a year to expand her child care from a one-room building behind her Iowa Falls home, to a 4,000-square-foot structure across the driveway. She was all ready to open in early March when the coronavirus struck and she was forced to delay her opening to April 20. Ubben said Monday that she's up to 20 kids at the center, with room and staffing for 52 kids, although they must be 2 or older.
"Word is slowly starting to get out," Ubben said. "We're trying to get people familiar with the fact that we're here."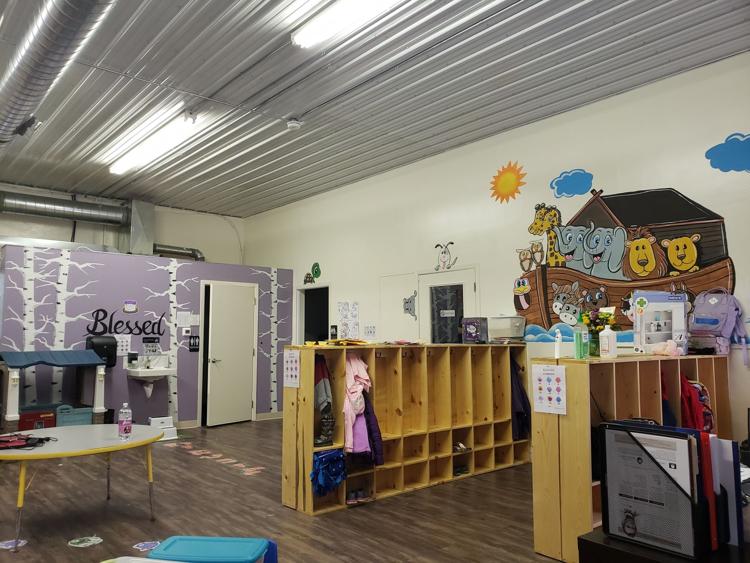 To protect against spreading illnesses, Ubben said surfaces inside the center are wiped down throughout the day, and kids are asked to wash their hands regularly. Temperatures are taken three times a day to monitor for fevers, and at the end of the day all toys and other materials are washed. Wiggles and Giggles is also not allowing kids to bring blankets or stuffed animals from home.
"We have pretty strict cleaning rules," she said.
Ubben has hired half a dozen employees and as more children enroll at the center, she'll hire more employees. Buschkamp said he's getting the word out about Ubben's center to try to help businesses with their employees' needs.
Overall, Buschkamp said he was surprised by the number of business owners he spoke that may not be functioning at 100 percent, but are still staying busy. He urges the public to shop locally and spend money when businesses do gradually reopen.
"We're encouraging people to spend their stimulus check locally," he said. "One of the biggest concerns that came out of it was the fear of a global recession and a decrease in consumer spending."