A new six-region system is tracking the availability of medical resources across Iowa as government leaders and medical professionals prepare for an anticipated peak in the number of COVID-19 cases in the state later this month.
The Iowa Department of Public Health, Iowa Health Care Coalition and Iowa National Guard are partnering on the initiative, which established six Regional Medical Coordination Centers (RMCCs). At a press conference Wednesday morning, Gov. Kim Reynolds reported on the availability of supplies and hospital beds in two of the six regions:
Region 1 includes 25 counties in central and south central Iowa, and is headquartered at Camp Dodge in Des Moines. As of Tuesday evening, Region 1 had 33 COVID-19 patients hospitalized, 11 in ICUs, and six on ventilators. Still available were 1,433 inpatient beds available, 179 ICU beds, and 221 ventilators.
Region 2 is 12 counties in the north central part of the state, including Hardin County. It is headquartered at the Mason City Armory. As of Tuesday evening it had reported two COVID-19 patients hospitalized, one in an ICU bed, and one ventilator in use. Still available in the region are 231 inpatient beds, 11 ICU beds, and 26 ventilators.
"You may have noticed that the number of beds and ventilators available is significantly less in Region 2 than other RMCC regions," Reynolds said during her report. "North central Iowa has a much smaller population, the hospitals in those counties are smaller and they have fewer resources than those in our urban areas of the state."
But, Reynolds said, if a facility in Region 2 has an increase in COVID-19 patients and needs additional equipment, the RMCC will coordinate that. Also, Reynolds said, if a patient in Region 2 needs a higher level of care than is available in those counties, that person could be transferred to another region for care.
"This is the purpose of really establishing the RMCC model now," the governor said, "so we are ready to respond to any situation that may unfold."
Staff at Hansen Family Hospital, which is part of the MercyOne North Iowa network, have been working for weeks to coordinate sharing resources within the Mercy network. With the creation of the RMCC system last weekend, that collaboration is now statewide, and data are being shared across regions and reported to the governor every day.
"Before, we were pretty much focusing on the county and our own system," said Lori Krenos, chief nursing officer at Hansen Family Hospital "This is pulling everybody together in the entire region, which is multiple counties and entities . . . So if things escalate, they have a better idea at this level.
"It's actually a good thing for us," Krenos added. "If we get in a pickle, we can get help."
Krenos said the hospital is reporting numerous data points every day, including bed availability, laboratory testing, and PPE (personal protective equipment) supplies. Even though the hospital in Iowa Falls does not have an intensive care unit (ICU) and does not have any ventilators, it reports those numbers as zero.
Krenos said HFH has already seen how daily reporting can trigger assistance through the RMCC. Each facility has "status indicators" that are coded as green, yellow or red.
"Green is the new normal and says we can manage with the resources we have and the staff we have," Krenos said. "Yellow escalates it. If we don't have immediate trouble coming, but we have some issues that we're having trouble dealing with, we get an immediate call from the state when we flag that.
"Red means we are in big trouble with critical shortages," Krenos added. "That's when they will immediately bring in resources to help with the situation."
Krenos said HFH has flagged itself at yellow because it had "a couple of issues," but the state immediately called and helped resolve those issues.
'Tent activity is picking up'
The hospital has been managing well thus far, Krenos said Wednesday, but "tent activity is picking up," she said, referring to the tent that's been set up in the HFH parking lot as a drive-through COVID-19 assessment and testing site.
In recent days the process of triaging patients has changed, and providers have become more involved.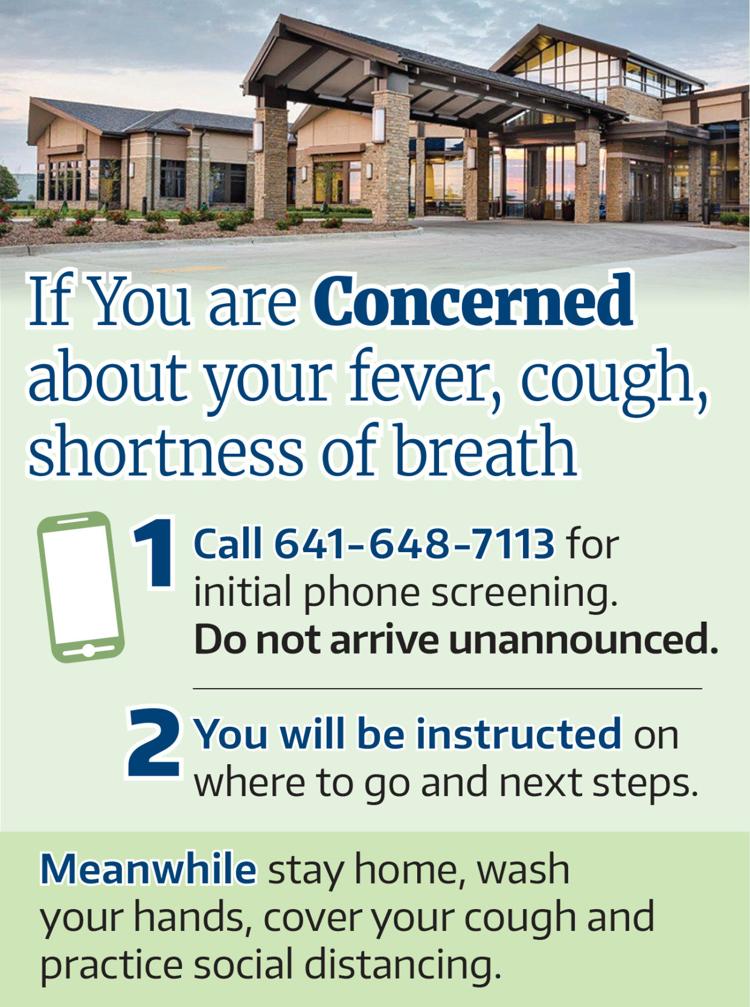 "Everybody that calls the 648-7113 COVID-19 number gets screened," Krenos said. "Many, many of these are getting a phone call back from the provider. The provider might say 'I want you to come into the respiratory clinic.' Or they might turn around and say 'We want you to get tested.'"
Krenos said the hospital has spent a lot of time preparing, and now they're waiting to put their plans to work.
"I think we're really well prepared and it's the lull before the storm," she said. "Maybe people are paying attention and self-isolating enough that we won't have the big surge. We don't know."
The Institute for Health Metrics and Evaluation is projecting that Iowa's COVID-19 cases will peak between April 27 and May 1, with as many as 19 deaths per day for a total of 565 deaths by June 1.
"The hardest part is we're so prepared I'm afraid people will get complacent because we're ultra prepared and now nothing's happening," Krenos said of the community. "We try to keep everybody cautious. People are doing an awesome job of masking, an awesome job of washing their hands. But we still see people going to grocery store with their entire families.
"It's going to take every single person to make this work."