Public health officials announced Thursday morning that another Hardin County resident has tested positive for COVID-19, bringing the county-wide total of confirmed cases to 16. It was the third positive test reported in about 24 hours, beginning early Wednesday morning. Tuesday was a single-day high for the number of Hardin County residents tested for the virus; Iowa Department of Public Health data report 30 people were tested on May 26.
Greenbelt Home Care/Hardin County Public Health reports that the latest confirmed case is in a person age 18-40. That means of the county's 16 cases, 10 are age 18 to 40; four are age 41 to 60; and two are age 61 to 80.
The state's coronavirus website reports nine Hardin County residents have recovered from COVID-19. There have been no local deaths, although 500 Iowans have died of the disease. A total of 18,497 Iowans have tested positive for coronavirus.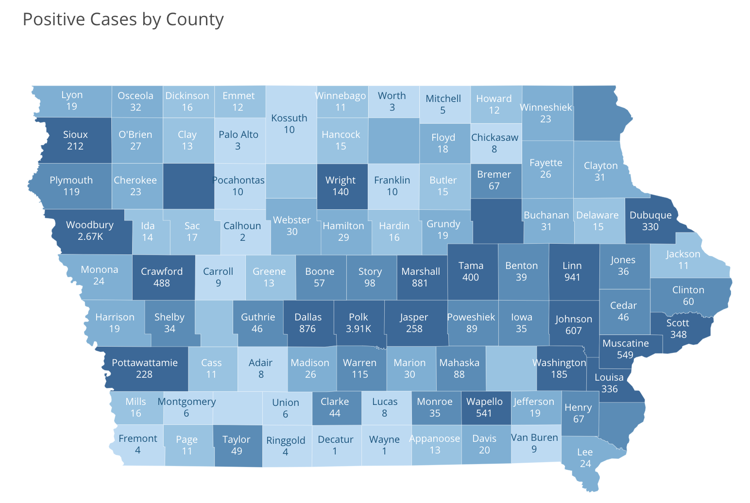 As of Thursday morning, 507 Hardin County residents have been tested for COVID-19. That's 1 in 33 people, or about 3 percent of the county's 16,868 residents. And of the residents who have been tested, 3.2 percent have tested positive. The state's coronavirus website provides data at the state and county level, and it is updated throughout every day.
Since the first COVID-19 case in Hardin County was announced on March 26, Greenbelt Home Care/Hardin County Public Health has announced positive cases with press releases sent to local media and government leaders, and posts on the agency's Facebook page. The announcements are usually made as soon as the case is reported to the local public health agency. But two changes - one, the handing over of case investigation duty to the state, and the state's move to update case counts throughout the day - are precipitating a change. Hardin County Public Health Coordinator Rocky Reents said she'll begin sending out the notice of new cases and posting on the agency's Facebook page once every day - at the close of business. Case numbers will still be available to the public on the state's coronavirus website as they're added.