Richard Stephen received an email from Hardin County Public Health last week, inviting him to set up an appointment to receive a COVID-19 vaccination. But the 85-year-old Iowa Falls man, who's eager to get vaccinated, didn't get the email right away. By the time his daughter got home from work and could help him access the scheduling website, all of the appointments were taken.
"We're not very tech savvy," he said of himself and his 87-year-old wife. "It looks to me like the younger people that are tech savvy are going to be first to get the vaccine and we're going to be last because we don't understand it.
"The way it's set up now we're just going to be last," he said. "I don't see any other way."
Stephen's frustration is shared by dozens of other Hardin County senior citizens and their family members who have been trying to navigate a mostly-online system to sign up for a small number of vaccine appointments. With demand outpacing supply, most have been left out.
It's a common complaint heard by the employees at Hardin County Public Health who have a list of more than 1,000 people who qualify for the vaccine right now, but have to wait because the agency is only receiving a few hundred doses each week.
"Someone sent me an email that said, 'You'd just as well hire Ticketmaster to do this. It's like trying to get tickets to a Beatles concert,'" Hardin County Public Health Coordinator Rocky Reents said. "Everybody wants a shot now. This is a problem everywhere. The demand is much higher than the supply."
Two and a half weeks ago, as the state opened vaccine eligibility up to K-12 educators, child care providers, first responders and people age 65 and older, the local public health agency created an online form and encouraged local residents who want to be vaccinated to sign up. As of Wednesday this week, more than 3,000 people had submitted the form. Staff at the local public health office have been sorting through the forms, deleting duplicates and removing people who've been vaccinated.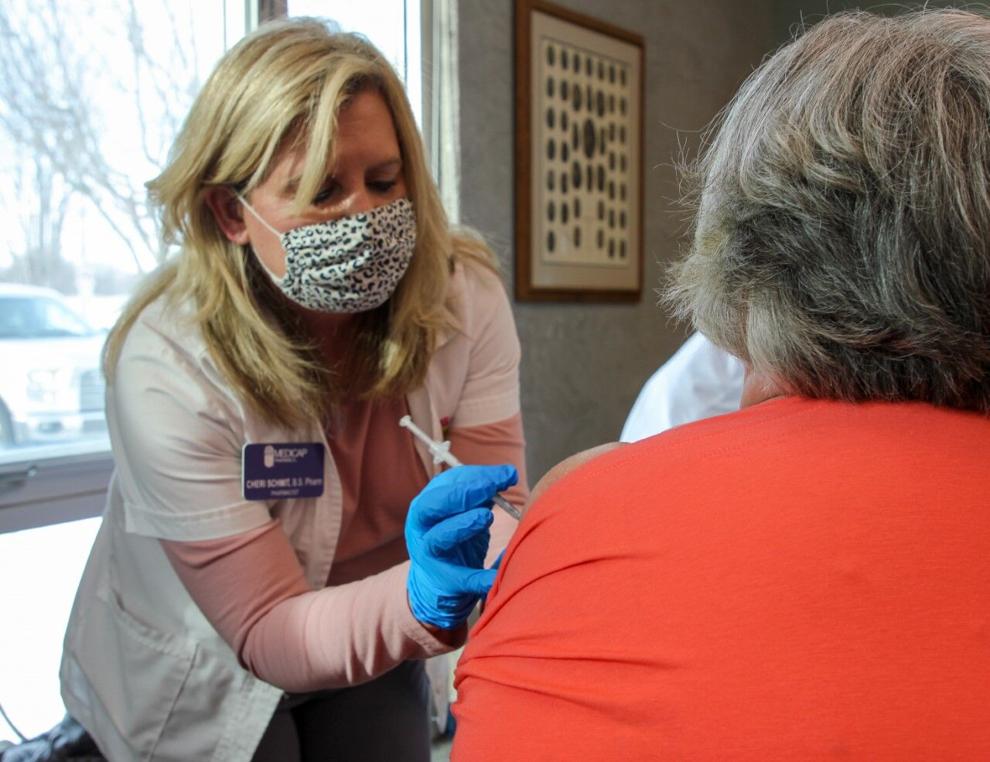 Reents said the forms are divided into people older and younger than 65, then the 65 and older group is separated into two groups: those who submitted an email address on the form, and those who provided only a phone number. When Hardin County Public Health receives notification that a new allotment of vaccine is coming, it uses the phone call-only group of forms to begin calling Hardin County residents to schedule vaccination appointments. When those phone calls are finished, Reents sends an email to the people who provided email addresses. They're given instructions and a link to make an appointment. Last weekend, the email went to 1,500 people at once.
For the people who receive that email, it becomes a mad dash to click through, complete a consent form – asking for their name, date of birth, address, allergies and exposure to COVID-19 – before arriving at a page where they can book an appointment. It takes very little time for those appointments to be snatched up.
"I was on the phone with my dad, asking him questions to fill out the form and I said, 'Forget it, it's just filled up,'" said Cheryl Lascheid, who's been trying to get her 83-year-old dad signed up for a vaccine. "I had looked at my email within two hours of getting it."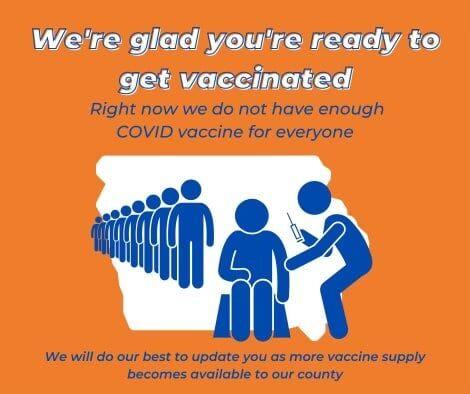 Reents said she's sympathetic to the public's frustrations, but with so few vaccine doses, she said there's not much that can be done right now. The county was notified by the Iowa Department of Public Health that it will receive 300 doses of the vaccine each week this month. Those shots will all be first doses of the vaccine; the state provides additional doses for the second booster shots that the vaccine requires.
But the 300 doses can't all go to senior citizens. Educators, child care providers and first responders are also eligible. Reents said doses are being split, with about two-thirds going to seniors. The rest have been going to school staff. Reents estimates all county school employees who want a shot will have one by the end of next week.
Reents said public health is continuing to partner with just Medicap Pharmacy in Eldora to distribute the shots. Other counties have distributed doses to multiple qualified pharmacies and clinics, but Reents said it's still easier to partner with one pharmacy to schedule vaccination clinics.
"Three hundred doses is not a lot," she said. "The state has implemented new performance measures for us. If we don't meet an 80 percent threshold for giving out our vaccine, they will call . . . With that pressure from the state, it's so much easier for me to be able to have control over the situation and know that my doses are going out literally as fast as they're getting in."
McFarland Clinic, which has locations in Iowa Falls and Eldora, is administering vaccines at some of its other locations in Iowa, but not Iowa Falls and Eldora. Marketing and Public Relations Director Shelley Goecke said that's because Hardin County Public Health has not distributed any vaccines to the local clinics. She said McFarland has been told that eventually it will receive doses. Until then, Goecke said, Hardin County McFarland patients who qualify for a vaccine and want one, should take what they can get, wherever they can get it.
"If you can get it somewhere else, do so," she said.
It's been seven weeks since vaccinations began in Hardin County. The shots began with health care providers. Those who've received the shots report some minor side effects like arm soreness and feeling a little under the weather, but most say it was worth it.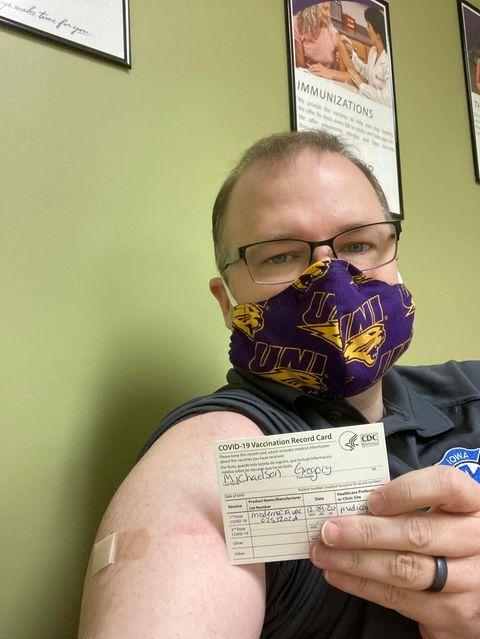 "There's no drug, no medicine, that's 100 percent effective," said Greg Michaelson, a member of the Iowa Falls EMS crew who has received both doses of the vaccine. "It's not a guarantee, but it's certainly better than the alternative. I have seen the alternative. I've helped transport COVID positive patients . . . I've seen what that looks like."
Michaelson's full-time job is in the biotech industry. He works remotely for Agios, a Cambridge, Mass.-based company. He's spent the last two years helping prepare for FDA trials for a new drug for a rare disease. He's well acquainted with the FDA approval process, and said he had no qualms about receiving the COVID-19 vaccine. He encouraged others who have questions about the vaccine to do their research, but to be mindful of where they get that research.
"I would urge everybody to not rely on what your friends or what Facebook or YouTube say about the vaccine, but to look at credible sources and actual medical literature," he said. "It's really unprecedented how well this vaccine has been shown to work."