The mood inside the Iowa Falls Fire Station Wednesday morning was one of hope and relief as more than 90 Hardin County residents passed through to receive their first dose of COVID-19 vaccine.
Wednesday's clinic was the first time that doses of the vaccine allocated to Hardin County Public Health have been administered to the general public. Since late December, the agency and its vaccine distribution partner, Medicap Pharmacy in Eldora, have inoculated more than 600 Hardin County residents who work in health care, or live or work in long term care facilities. All of the 200 dose administered on Wednesday – at the morning clinic in Iowa Falls, and at an afternoon clinic in Eldora – went to people age 65 and older.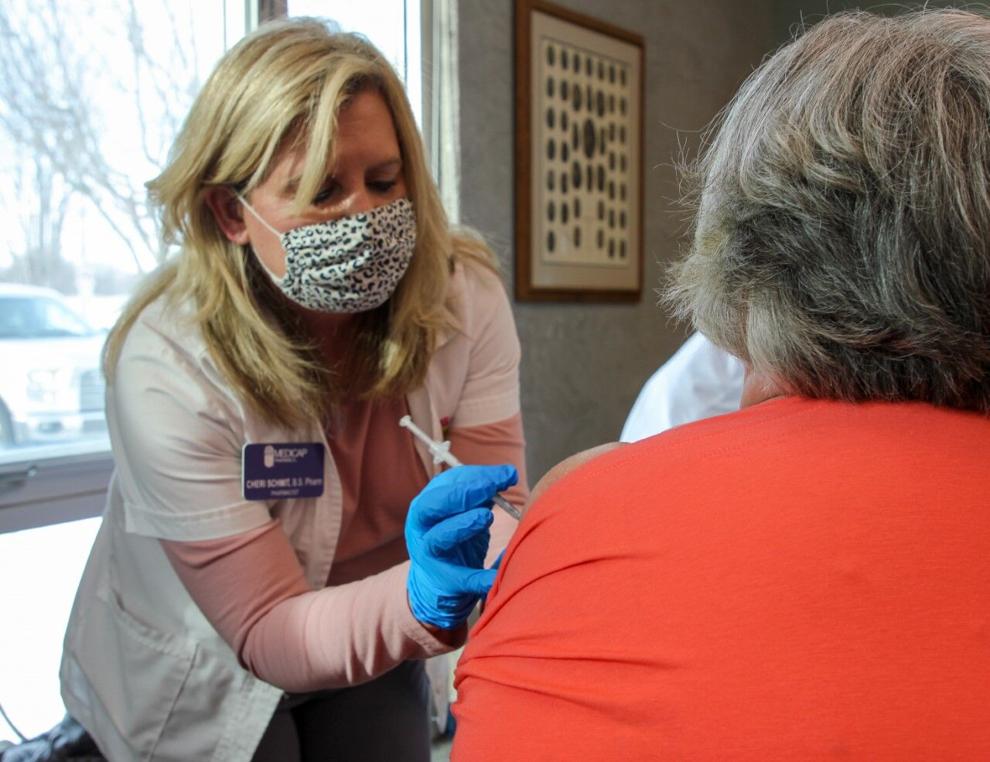 Donna Guard, who lives in rural Radcliffe, traveled to Iowa Falls to get her shot. She said she's "ready to be out and about."
"What you miss is things like going to festivals and parades and everything," said Guard. "Being able to get in the car and go shopping and not worry about it. I love to shop."
Cheri Schmit, BS Pharm, was one of three Medicap employees administering vaccines on Wednesday. She said that although the first dose should provide about 50 percent protection from COVID-19 two weeks after getting the shot, and the second dose, which will be administered on Feb. 24, will boost that protection to 90 percent or more, people will still have to wear face coverings and practice social distancing.
"We're going to have to continue doing that until we get community spread down," said Schmit, who has received both doses of the vaccine and was wearing a mask on Wednesday.
Schmit said Wednesday's vaccine recipients seemed more excited to get the vaccine than the health care providers who have been inoculated in recent weeks. She saw no hesitation in them about receiving the vaccine on Wednesday.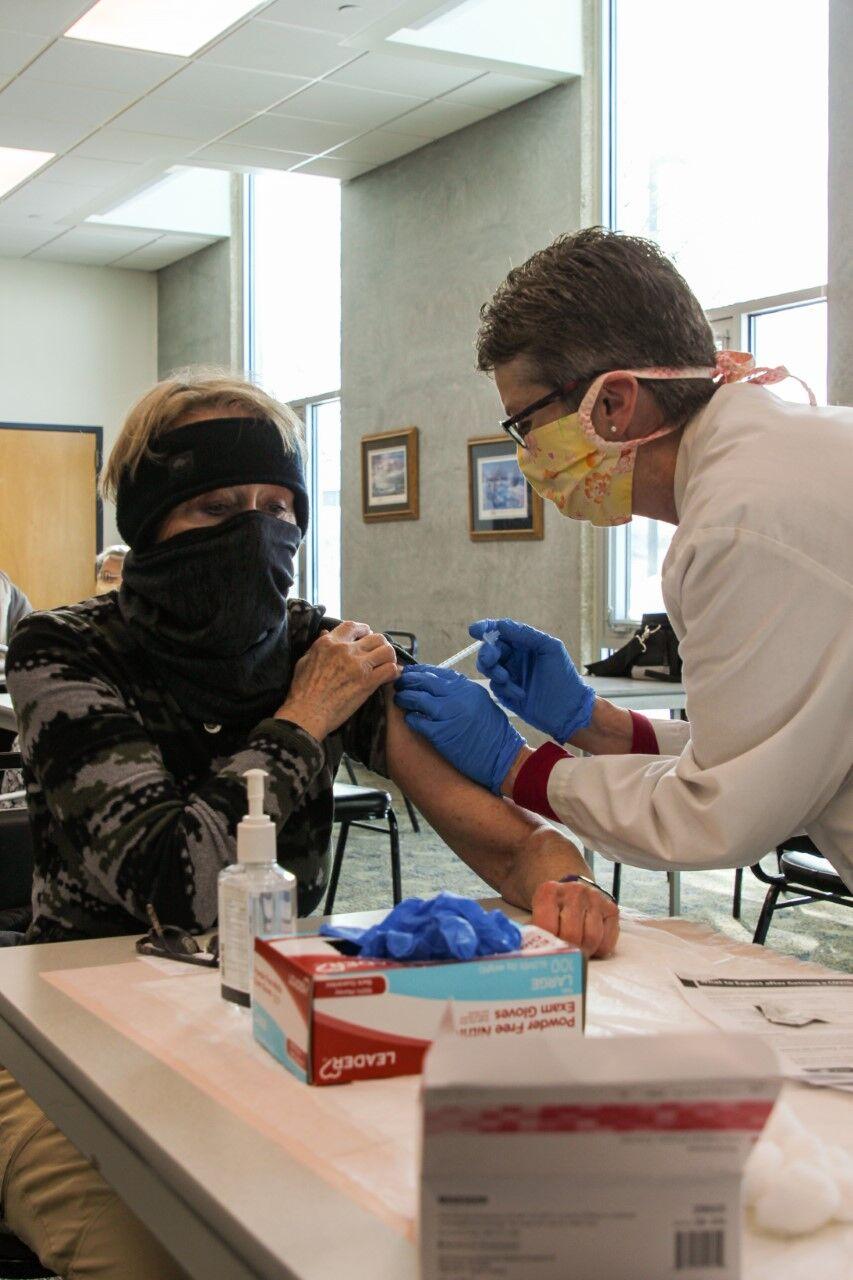 "A lot of these people lived through polio," Schmit said of the over-65 group at Wednesday's clinic. "They understand the fear that parents had when their kids got a fever. There's a lot less hesitancy in this population. They understand risk versus reward."
Two of those who happily rolled up their sleeves on Wednesday were Kurt and Arliss Kelsey of Iowa Falls. The couple, who are age 77 and 75, respectively, said they've been cautious since COVID-19 was discovered in Iowa last March. They've limited visits with their children and grandchildren to outdoor, distanced gatherings.
"I've not been in a vehicle with anyone but Arliss since last March," said Kurt. "The last restaurant I was in was Plaza Veracruz in early March last year. I said if I'd known it was going to be my last time in a restaurant, I would have had two margaritas."
"I think we're pretty lucky," Arliss said of their receiving the vaccine.
The 200 doses of vaccine administered on Wednesday weren't available for public sign-up. When Hardin County Public Health officials learned last Friday that they would be receiving the 20 vials of vaccine, they turned to a list they'd been keeping of people who called to inquire about a vaccine. Employees reached out to people on the list who are age 65 and older, and helped them sign up for the two clinics this week. That took all available vaccine doses.
When word got out that all available doses had been reserved using a list whose existence had not been publicly disclosed, some people reacted with anger and frustration, inundating the public health agency's phone lines. Public health officials responded by creating an online form that invites anyone from the public to sign up and get their name on the list for future vaccine doses. (Find that form here.) As of Wednesday morning, 1,508 people had completed the form.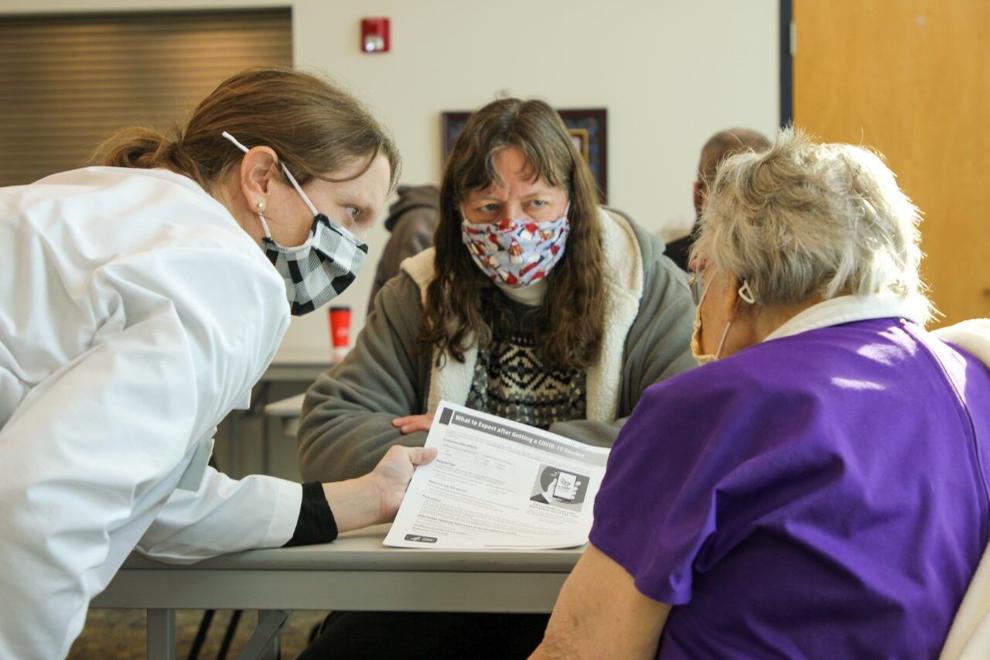 The process of doling out vaccine doses at Wednesday's clinic was quick. Vaccine recipients were scheduled to arrive by twos every five minutes. They were checked in, they filled out a form, took a seat at one of three vaccine stations, spoke with a pharmacist, rolled up their sleeve, received the shot, waited 15 minutes to check for reactions, and they were on their way. Not a single person failed to show up.
Elizabeth Crabtree, of Iowa Falls, praised Hardin County Public Health and Medicap staff for their work.
"They're very efficient," she said. "I'm very thankful for them."