The spread of COVID-19 in Hardin County slowed last week after an uptick the week before. But even as virus activity has waned, many residents are still anxiously awaiting their turn to receive a vaccine dose. And indications are that many will have to continue to wait.
On Monday morning this week, the Iowa Department of Public Health was reporting a total of 1,703 COVID-19 cases since testing began one year ago. That's 14 new cases since last Monday, March 1, when the total stood at 1,689. The previous week, the county recorded 24 new cases, and the week before that the total grew by 15 cases.
As of Saturday, two Hardin County residents were hospitalized for treatment of COVID-19. The state did not report any new deaths of Hardin County residents last week, which means the total stands at 39 Hardin County residents dead from COVID-19.
Spread of the virus in Hardin County's school districts was non-existent last week. Iowa Falls-Alden, South Hardin and AGWSR all reported no new COVID-19 cases for the week that ended March 5. However, Ellsworth Community College reported an uptick in cases on its campus. According to the college's website, six new cases were identified last week. That's the most the college has reported in a week since late October.
Testing was down again last week. The Iowa Department of Public Health reports a total of 619 tests were administered to Hardin County residents during the week of Feb. 27-March 5, a decline from the week before when 686 tests were administered. The last time testing was that low was September last year.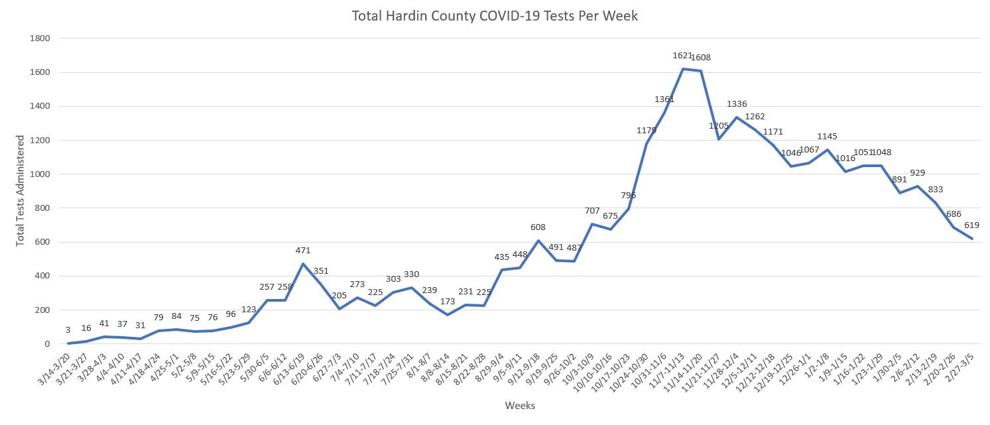 Vaccinations continue
Hardin County Public Health is continuing to distribute vaccines to eligible residents. And despite an announcement by the state last week that eligibility can expand, the county will continue to use its vaccine allocations to inoculate only people who qualify for Tier 1 of Phase 1B of the state's vaccination rollout plan.
On Thursday evening, IDPH spokesperson Sarah Ekstrand announced that effective March 8, vaccine providers could begin vaccinating people under age 65 who have a medical condition that puts them at an increased risk of severe illness from COVID-19. Those medical conditions, identified by the Centers for Disease Control and Prevention, include the following: cancer, chronic kidney disease, COPD, Down Syndrome, heart conditions (heart failure, coronary artery disease or cardiomyopathies), immunocompromised state from solid organ transplant, obesity (body mass index of 30 or higher), pregnancy, sickle sell disease, smoking, and Type 2 diabetes mellitus.
But Hardin County Public Health Coordinator Rocky Reents said the local vaccine supply will continue to go to people who are eligible for Tier 1, which includes educators, child care workers, first responders and people age 65 and older.
"We still have people in our 65 and older group that we're trying to get through," Reents said on Friday. "These people have been on the waiting list for weeks. I would feel bad throwing thousands more people on there with them."
Hardin County is still receiving 300 first doses of the Moderna vaccine each week, and it's still administering them through a partnership with Medicap Pharmacy in Eldora, mostly through vaccination clinics throughout the county. Reents said she was told the county can expect to begin receiving supplies of the Johnson & Johnson vaccine (which requires only one dose), but she doesn't know when that may happen.
Hardin County Public Health created a Google form in January that it has used to identify people who qualify for the vaccine. The public was invited to sign up for a vaccine using the form. If they provided an email address and a phone number, they receive an email when they qualify for the vaccine, and they're asked to sign up for a vaccination appointment. IF they provided a phone number only, public health officials contact them directly to set up a vaccine appointment.
Reents said Friday that the Google form had been revised to include a field for the public to list underlying medical conditions. Anyone who has an underlying medical condition is urged to fill out the Google form (found here). If you've already filled out the form and need to add an underlying medical condition, Reents said you should fill out a new form to replace the earlier form.
Reents said 4,000 people have filled out the Google form, but public health staff are finding that some of the people who previously filled out a form have, since then, have been vaccinated elsewhere. On Thursday last week, staff worked through the phone call list to set up appointments for vaccines, and it deleted 61 people who'd already received the shot. Reents urged those who've received the shot to let public health know so they can be removed from the list.
As of Monday morning, 1,910 Hardin County residents had received a first dose of the vaccine, and 1,588 Hardin County residents had received both doses, completing their inoculation. Of those 5,086 total shots, Hardin County Public Health has administered 3,925. Reents said Hardin County Public Health has been using 100 percent of its allotments in recent weeks.
Help available
Beginning Tuesday, the 211 Call Center will be able to help Iowans age 65 and older who need assistance scheduling an appointment and don't have the technology to do so. If you're 65 and older and need help, call 211 starting March 9.