The novel coronavirus continues to spread throughout the United States - as of Monday, there had been more than 10,000 deaths caused by the disease - and much of the country is under orders by city and state leaders to shelter in place or stay home. But in Iowa, one of only five states that does not have such an order in place, Gov. Kim Reynolds has instead opted to close specific businesses and urge social distancing.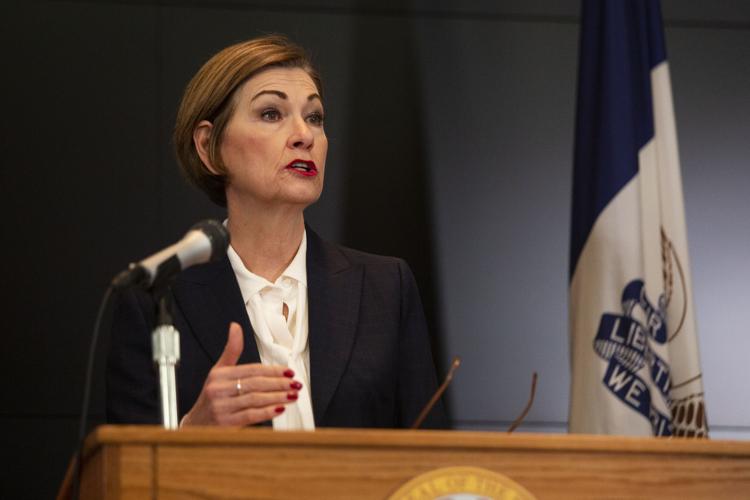 At a press conference on Monday - when 78 additional cases and three more deaths were reported - Reynolds again stopped short of ordering Iowans to shelter in place. Instead, she announced further closings - of malls, tobacco stores, bowling alleys, campgrounds and playgrounds, among other places. (Find the full proclamation here.)
"I have said stay home," Reynolds said Monday in response to a question about whether she was effectively asking Iowans to shelter in place. "I have ordered that you can't gather in groups larger than 10 and we are going to hold Iowans accountable to following through with what I've ordered . . . We have taken very targeted and incremental approach, we have expanded as necessary."
But are Iowans following those orders and staying home? Local officials say yes, but data suggest otherwise.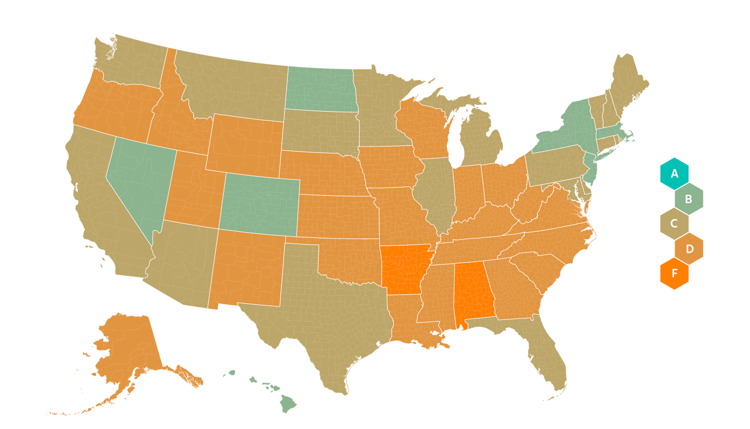 The New York-based company Unacast is using cell phone tracking data to create a "Social Distancing Scorecard" that measures Americans' movements and grades them based on how much they've reduced their average movement each day. The company is using Italy as the model because that country reduced its mobility by 70 to 80 percent after the government issued a shelter in place order. On that scale, as of April 2, Iowa's grade was a D-, meaning people in the state had decreased their mobility by only 20 to 40 percent from pre-COVID-19 movement. Hardin County scored worse with an F, which means residents decreased their mobility by less than 25 percent.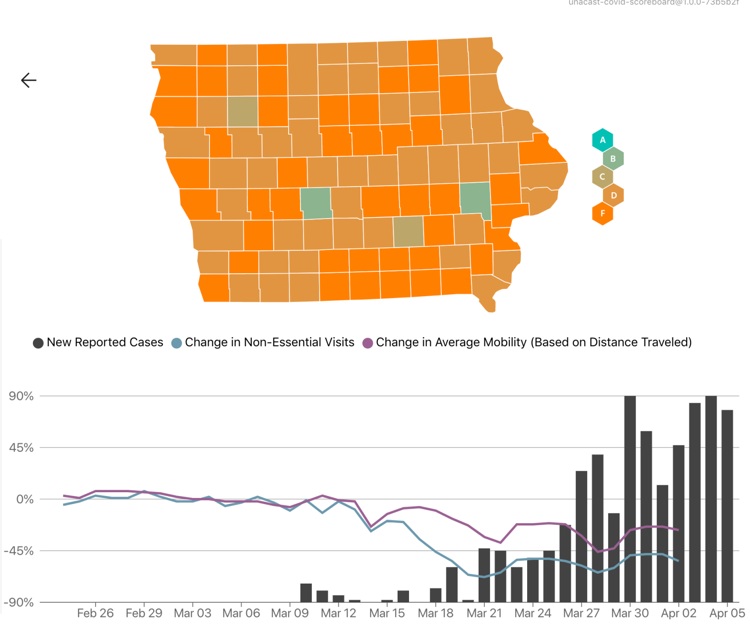 Iowa Sen. Annette Sweeney, who represents Hardin County at the Statehouse and lives in rural Alden, said she doesn't think cell phone tracking is a fair representation of Iowans' response to the coronavirus.
"We have to be very careful when we look at those data being released by cell phone companies. They're not accurate," said Sweeney, who is a farmer. "By the time I get done with chores I've put on 4,000 steps in the morning – opening gates, hauling buckets . . . Yesterday alone I had 7,000 steps in just the afternoon."
Others have argued that tracking mobility in rural areas gives an incomplete picture because many people have to travel greater distances to reach essential places like grocery stores, doctor's offices and pharmacies.
Sweeney said the governor can issue a shelter in place order, but it's not clear what that would mean for Iowans.
"There is no definition for that anywhere," she said. "So what our governor has been doing is [telling people to shelter in place] without saying 'shelter in place.'"
Those people who disregard the governor's orders to limit social gatherings may face legal repercussions. During Monday's press conference, Stephan Bayens, commissioner of the Iowa Department of Public Safety, said the governor will issue guidance this week on how local law enforcement will enforce the orders outlined in her disaster declarations.
"Violation of these orders could results filing of simple misdemeanor charges," Bayens said.
In Iowa Falls, Police Chief Wade Harken said late last week that his department had not had any issues with groups disobeying rules, despite spring weather making the outdoors appealing. Harken said he thinks Scenic City residents are doing what they're supposed to do.
"I've noticed more people out," he said of recent weeks. "But I've noticed most of them seem to be limited, group wise. Probably more than half appear they are still doing distancing, even if they are walking together.
"The other day I saw four SUVs or minivans parked in a diamond shape at the high school and people sitting in the back, looked to be having a conversation," said Harken, who noted that they were more than six feet from each other.
While there have been quite a few calls to report controlled burns of leaves and brush, Harken said other calls to the PD have decreased. Most notably, the number of collisions.
"The month of March was the lowest number of accidents since I've been here," said the 25-year IFPD veteran. There were just five collisions in March, compared with the average, which is closer to 12.
"When less people are driving, there's less opportunity for accidents," he said.
Sweeney, who has journeyed into Iowa Falls just a couple of times in recent weeks, said she, too, has seen people complying with directives.
"People smile and wave, but they stay apart," she said of her trip to the grocery store. "When Dave and I pulled into Iowa Falls to pick up dinner, people were out on sidewalks. It was great to see that."