March 14. That's the last time Iowa Falls' First Christian Church congregated. But with Gov. Kim Reynolds relaxing certain COVID-19 restrictions, they met again on Sunday. Sort of.
Parked in the lot and along the streets, the congregation waved through their car windows and listened to the weekly 9 a.m. radio service on KIFG. Song books were handed out, and the parking lot filled with voices of praise.
Pastor TJ Norman sat among them in his silver Jeep Patriot while his voice led the radio service on Sunday. As more and more cars turned off Fischer Avenue and into the lot on the south side of the church building, his smile grew wider.
"That's really what people are aching to do," Norman said. "They've been shut down and isolated for so long, they're ready just to see other human beings. And even though this isn't in any way, shape or form like sitting side-by-side with each other in a worship service, it's one way that we can connect - even if it's through a windshield where we can still see other people. The church is still being the church."
Norman said teams of people from the church have called members throughout the shutdown. He said that's a way for the church to keep in touch and to let members know they are not forgotten. The full parking lot on Sunday proved that the church hasn't been forgotten, either.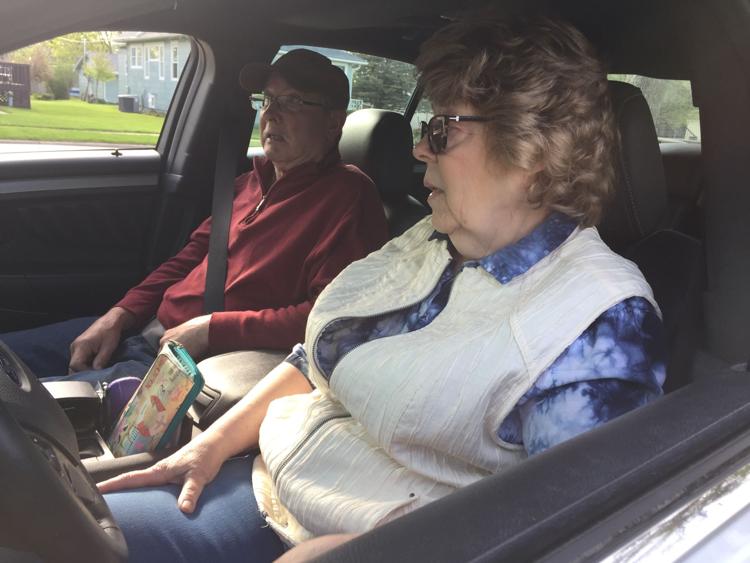 Dan Merklin has been a member of the church since he was a baby. Now, at 70, he was glad to be back among his fellow parishioners. He said he has been going to work every day, so getting out of the house was nothing new. But being able to see friends at church was special.
"It's really nice to see them again after such a long hiatus," Dan said. "Even though we can't shake hands with anybody."
Merklin's wife Darlene, a council member at First Christian, was putting up signs before others arrived. It was her first visit to the church since before her hip surgery in February. She said she was cleared to drive again the same day Reynolds placed restrictions on the state. For her, it was good to just be anywhere and being able to visit with people.
"It's been longer for me, I haven't seen anybody since February 27," Darlene said.
Darlene said being able to do this, and to see those friends she hadn't been able to for more than two months, made a beautiful day even better. If nothing else, she added, it gave everybody a little taste of a normal Sunday morning.
"It's something different and new and I hope people get excited for it," Darlene said. "The only thing I've done is go to therapy and take care of my garden. This is my first foray into anything social."
Newer members to the church, Craig and Carole Zabel, were all smiles and waves as they backed into their spot. They said they were eager to leave the house to receive the Word at the church they've belonged to for some three years.
"It's been a long dry spell so it's good to be back," Craig said. "Even though were just sitting and looking at each other."
As devoted listeners, Carole said it's nice to at least share some fellowship. Even though it is only a wave across the parking lot.
"It's nice to wave to people because you don't see some of them except on Sunday," Carole said. "We listen every Sunday, but just to see all these familiar faces again makes you feel better."