Tony Whitmore has spent half of a century serving on the Iowa Falls Fire Department, but at 71 years old, he can still keep up with the younger firefighters on the roster.
Born and raised in the Scenic City, Whitmore surpassed his 50th anniversary on March 4.
During his tenure, he has grown from a probationary member and progressed all the way up to assistant fire chief. Learning to adapt to the constant rules changes and regulations that fire fighters must follow has been one of the biggest changes during his 50 years on the IFFD.
The flames for Whitmore's passion for becoming a firefighter began when he enlisted in the United States Navy. He spent two years in Vietnam on an aircraft carrier (1968-1970). He said when someone commits to service in the Navy, they are considered a firefighter as fires can be the most dangerous issues that arise while boarded on aircraft carriers.
Once he was discharged from military service, Whitmore's father-in-law was already a member of the IFFD. Acting on his suggestion, Whitmore submitted his name to the fire department and he quickly started his probationary period. His full-time tenure began in March of 1971.
"If you do what you are told and not any stupid stuff, you are likely to get on. When I joined, we had 28-30 members. Today, we have 35 members. That number (IFFD members) seems to stay in same ballpark," Whitmore said. I've probably worked with 20-25 people who have come and gone, but it's really like serving in a brotherhood. We spend time together at meetings and training sessions...doing odd jobs around town and things like that."
When he first joined the IFFD, he leaned heavily on the veterans for support. He added that it is important for new members to learn the basics and attend a lot of training sessions.
Firefighting gear is one of the biggest changes that has occurred during Whitmore's time in the department. In the early 1970s, firefighters had rubber boots, a rubber coat, gloves and a plastic helmet. That is a stark contrast to today's fire protective clothing.
"We didn't have many SCBAs (Self-Contained Breathing Apparatus) when I first got on...maybe four of them. Over the years, everyone on the fire department has a face piece but there are 30-some air packs. Some people don't like to wear them because they are claustrophobic but that never bothered me," Whitmore said. "We used to do outside attack on house fire and start outside and work way in. Now with newer bunker gear you have pants, leather boots, pants with a vapor barrier and better helmets."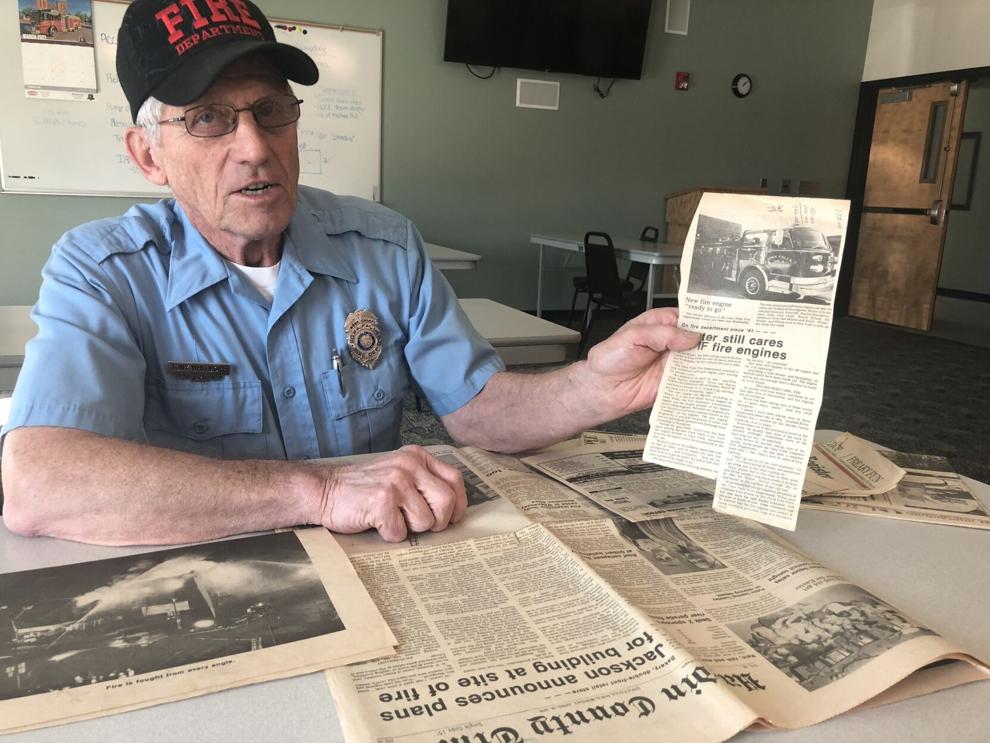 Whitmore said fire departments are beginning to transition back to the old way of handling structure fires, which is using a smooth bore nozzle rather than a fog nozzle. Now it's a combination of those two.
One aspect of serving the public on the IFFD that will never change is the danger element. Whitmore has been on the department for several larger-scale fire events. Two big ones that he recalls is the 1976 fire that destroyed three downtown buildings, including the 77 Lounge, The Office Tavern, and the Pat-A-Cake Bakery Shop. Another one later that year that impacted the Elks Club, and a business store.
"Those fires were two months apart," Whitmore recalled. "Unfortunately, one (77 Lounge fire) led to a death. We were on the roof on the back side of it, and we were told to come down. We no more than got down, and everything collapsed and fell inside. I had started down the stairs when it fell in. I knew the kid (Jim Harlan, age 26) that passed away as I had went to school with him. You never forget those fires."
With his 72nd birthday coming up on April 15, Whitmore said he harbors no thoughts of hanging up his gear for good. He said he will remain on the IFFD until his health tells him its time to stop.
"If I were to slow down and not get there as fast as I used to, then I would know. Training helps stay fit and we train every month," Whitmore said. "It's a good feeling when you help someone on their worst day. I still get satisfaction from the job."