Hardin County saw the biggest jump in COVID-19 cases last week since an outbreak at the Boys State Training School in Eldora infected 52 people in late July. According to information released on Monday, between Sept. 21 and 28, a total of 27 Hardin County residents tested positive for the disease. Those new diagnoses pushed the county's cumulative infection total to 307 since testing began in March.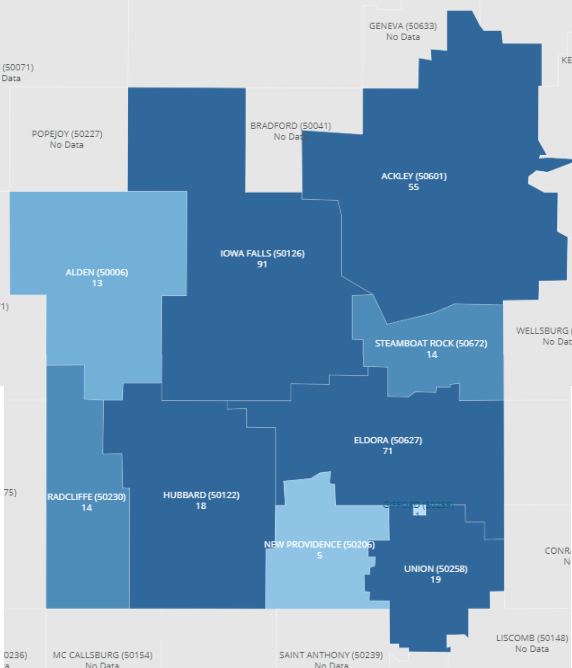 The latest data were released by Greenbelt Home Care/Hardin County Public Health. The numbers show that of the 27 new cases, most (11) were in people age 18-40, and at least 15 are residents in the Ackley ZIP code. ZIP code infection numbers were first released two weeks ago. Since then, the maps have shown rapid growth in the number of cases in and around Ackley, from 29 on Sept. 14, to 55 this week. While the 50601 ZIP code is home to about 14 percent of the county's residents, it has had 18 percent of the COVID-19 cases.
AGWSR Superintendent Erik Smith announced last Friday that there had been five new positive cases of COVID-19 in the district that week, bringing the school year case total to eight. The district is not distinguishing between students and staff when it announces positive cases.
Ellsworth Community College in Iowa Falls saw another six new cases last week, raising its total this school year to 12. Iowa Falls-Alden schools reported just one new case last week, and South Hardin schools did not have any new cases as of last Friday.
Hardin County's public health agency also announced on Monday that three Hardin County residents are currently hospitalized for treatment of COVID-19 symptoms. Of the 307 people who've tested positive, 233 have recovered. One person has died. That leaves 73 people currently infected with the disease.
Nursing home requirements increase testing numbers
Data published on the state's coronavirus website this week show a jump in the number of Hardin County residents who've been tested for COVID-19. On Sept. 21, Hardin County Public Health was reporting that 3,413 individuals had been tested. On Monday this week, the website was reporting 3,889 individuals have been tested. But not all of those 476 people were actually tested over the last week.
Between Friday and Monday, the state added nearly 27,000 antigen tests results from surveillance testing at long term care facilities. Times Citizen analysis of testing numbers shows that 186 tests were added to Hardin County's total over the weekend, but daily testing totals during that time show only 59 individuals were tested.
The antigen tests are part of a new program that requires surveillance testing of staff at long term care centers. Lora Juhl, executive director of Scenic Living Communities in Iowa Falls, said the guidance – released by the Centers for Medicare and Medicaid Services (CMS) earlier this month – requires long term care facilities in counties that have a positivity rate above 10 percent to test all nursing home staff twice every week. If a county's positivity rate is between 5 and 10 percent, employees must be tested once per week, and if the positivity rate is less than 5 percent, employees should be tested once a month. But that guidance isn't as simple as it seems.
Juhl said the positivity rates used by long term care centers are different than the positivity rates on Iowa's coronavirus website. CMS is publishing its own positivity rates that are weighted to account for rural populations. And whether a long term care facility is testing twice a week or once a week depends on the positivity rate that was published on the CMS website the day the facility started tracking it. Facilities are instructed to check the CMS website every other week to determine positivity rate and take action based on it.
To comply with the testing orders, some facilities received rapid COVID-19 testing devices to use on site. Scenic Living Communities' Scenic Manor received one of the devices, as well as 330 testing kits. But once those testing kits are gone, the facility will have to pay for its own testing supplies.
"We were required to obtain testing capabilities on our own and that's been very interesting," Juhl said. There are two companies making tests for use with the government-issued machines. Both have waiting lists. Juhl said Scenic Manor got on one company's waiting list, and it expects to receive the test kits – priced at $30 each – by mid-October. If the free test kits rare used up before the new ones arrive, Scenic Manor will have to conduct rapid testing through a company that charges $75 to $90 per test. There are about 90 Scenic Manor employees who need to be tested (employees who don't work in the nursing home do not have to comply with the surveillance testing), and Juhl said those expenses could add up quickly.
Juhl said Scenic Manor recently received a shipment from the government containing a different kind of test. They are cards that hold an antigen reaction agent. The test shipment was unexpected.
"We have no idea if the government is going to keep sending us these," she said. "It's cryptic – what we're going to get, how many we're going to get, when we're going to get it.
"I fully believe this will continue to change," she said of the government's guidelines.