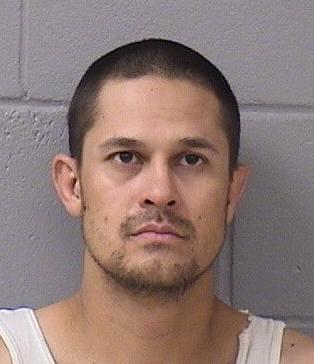 A Steamboat Rock man was arrested Friday and now faces six criminal charges after he allegedly threatened to fight a family with a machete.
According to a criminal complaint filed in court by Eldora Police Cpt. Anthony Schrad, the incident happened around 4 p.m. Friday in the front yard of 1313 24th St. in Eldora. Multiple people called 911 to report a man was threatening people with a machete. When Schrad arrived, he reported finding a man bleeding from the hand, standing next to another man who was sitting in the driver's seat of a pickup. Schrad searched the man in the pickup - identified as 39-year-old Christopher Barbeau of Steamboat Rock - and put him in the police car while he tried to determine what had happened.
Schrad wrote the following in court documents: according to interviews conducted at the scene, the incident occurred while a father, mother and brother were helping a woman move out of her boyfriend's residence on 24th Street. There had been arguments between the family and the ex-boyfriend throughout the day, and Barbeau - a friend of the ex-boyfriend - "attempted to provoke a physical altercation" with one of the family members. As Barbeau and the woman's ex-boyfriend were leaving in Barbeau's truck, the truck started to roll backwards toward one of the family's vehicles. One family member ran up to Barbeau's truck to get him to stop and Barbeau got out of the truck to argue with the man in an "aggressive, confrontational manner," the complaint states. The other family members reportedly ran over to prevent any physical altercation and that's when - according to Schrad's report - Barbeau retrieved a machete with a 17-inch blade from his truck. Witnesses told Schrad that Barbeau taunted them, saying "come on," like he wanted to fight. They were close to "Barbeau as he wielded the machete in his right hand and stood in a bladed position," the complaint states.
It was during the altercation that Barbeau's friend told Schrad he attempted to grab the machete from Barbeau and he was cut on the hand. He was taken to Grundy Memorial Hospital by Eldora Ambulance.
Barbeau was arrested and charged with going armed with intent (a class D felony), use of a concealed knife in a crime (an aggravated misdemeanor), and four counts of assault with display or use of a deadly weapon (aggravated misdemeanors).
According to the criminal complaint, Barbeau does not have a weapons permit, and he has previously been convicted of burglary and aggravated assault charges in Arizona.
He was released from jail on Saturday. A judge approved a temporary protective order for the family that was involved in the altercation.