Kathy Boeke has always had a kind soul. She grew up on a farm near Hubbard where she cared for various animals. For a while, she thought she wanted to be a veterinarian. As life moved on, taking her further away from those roots, she became a nurse.
"I thought animals were the best thing ever," Boeke said. "I'd rather have been on the farm than in school. I worked for the vet in town when I was in high school. But I changed my mind as I was about to graduate. Being a veterinarian takes a lot of school and I wasn't really prepared for that."
Life continued, eventually leading her to others' end of life care.
In 1983, just when computers were really new, Boeke enrolled in classes at Ellsworth Community College. She had a few jobs locally, then moved to Dallas, Texas at the encouragement of some cousins who lived there, and she worked for some insurance companies.
Boeke was also a military wife for a while and ended up joining the reserves. She eventually moved back home and was a jet engine mechanic for the Iowa Air National Guard in the mid to late 1980s.
She continued to take various classes through the military - things like general education, including science. The credits kept accumulating, so she decided to go into nursing when she moved back home.
"I was working odd jobs and thought I wanted something better with benefits," Boeke said. "When I was taking classes through the military, I was able to take a phlebotomy class. That got my foot in the door at McFarland Clinic working in the lab."
Boeke said she started taking nursing classes at ECC. She became a Registered Nurse, working at nursing homes in the Hubbard area – mainly Zearing. When the Hubbard Care Center opened, she started working there and later returned to McFarland Clinic.
After a divorce, she started dating Mark Boeke – the fifth generation to run Boeke Funeral Homes. They married in 1996.
"I was still working as a nurse part-time when I started helping here at the funeral home, mainly as a go-fer," Boeke said. "But I always told him once his dad passed that I would come in and help."
That happened in 2003.
"I'm still not filling Jack's shoes because there's still little things that he did that I didn't realize," Boeke said. "Mark and I have adopted our own way and our own communication."
While there are sons in the family, Logan and Ryan, it's daughter Emily who appears to be the one who will carry the family business into a sixth generation.
Emily, 21, is currently studying psychology at South Dakota State University. From there she plans to enroll in a mortuary science program in Dallas, then apprentice for a year.
"She's planning to partner up with her dad," Kathy Boeke said. "I'll still do my job as long as my brain and my fingers are still working."
Even though it's a job she never considered, Kathy said she loves everything about funeral homes. It's a people business.
"I feel in my heart that this is where I feel very complete and settled," Boeke said. "We do this for families and community. We know so many of these people and I really can't see myself doing anything else at this point."
Her early role with the business actually started outside doing yard work and mowing. She raked leaves, washed and detailed the vehicles, removed snow - basically things most people would never associate with the funeral business.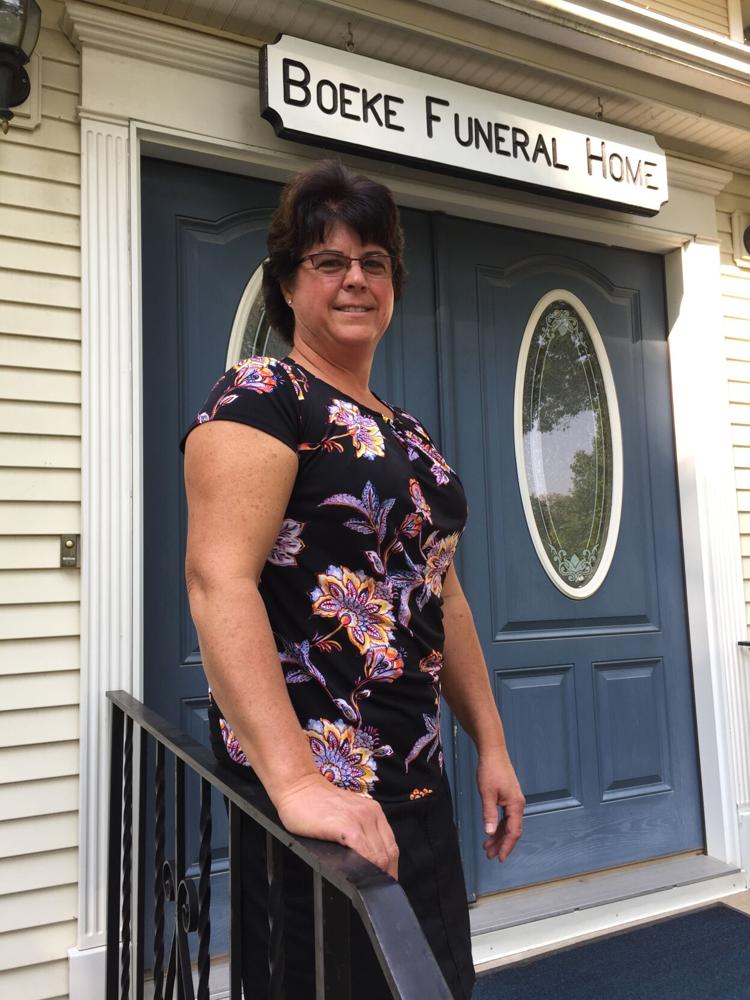 "Then, once Mark and I married, I thought a computer would really help streamline things," Boeke said. "So then I started typing obituaries and doing registry book pages and getting all that type of paperwork ready for funerals."
As the years progressed, Boeke started putting photos on memorials and making things more personalized for individual families.
"It snowballed from there," Boeke said. "I still help in the yard and detail the cars and things like that, but my main focus is the memorials and helping families with funeral planning along with Mark. Things have come around in a really good way"
Boeke said the business has really grown and she is now a big part of Boeke Funeral Homes in Hubbard and Radcliffe. Her training as a nurse has been helpful in working with grieving families, though she stopped nursing some time ago.
"We've picked up families in the Ellsworth and Jewell area, New Providence and elsewhere," Boeke said. "A couple funeral homes had closed, and word of mouth led people to us."
Though she doesn't help prepare bodies for services, Boeke said her past nursing skills come into play often.
"I think the nursing aspect is when it comes to the grieving process," Boeke said. "There's a psychology that goes along with this business. There's an emotional process that families go through when they lose somebody, especially unexpectedly. There's been times when I and Mark both have been crying alongside families."
Boeke said she saw a lot of that grieving process in her years as a nurse. It's never easy, but the pandemic has made it even harder.
While COVID-19 halted many things, it hasn't stopped the need for funerals. Boeke said they average 45 to 50 funerals a year. Services changed a great deal since social distancing and other limits became the normal. Boeke said it's made her job more difficult – not so much in the final act of saying goodbye, but in how.
Early in the pandemic, funeral services were limited to immediate family only. Even churches were closed to gatherings. That has since eased a bit, but things like face masks and social distancing are still strongly encouraged.
"You're still playing the same ball game, you just have to play it on a different field," Boeke said. "You have to do things in accordance with the Iowa Funeral Directors Association COVID guidelines as well as state requirements. At the same time, we try to make it as easy as we can on the families and their wishes as they cope with a loss."
Boeke said families have been very understanding. She said their funeral homes have opened up to full funerals in just the last couple months. Otherwise, visitations have been held outside to help social distancing at both facilities. She said those have been mainly cremations, which have increased this year.
"I think cremations have increased because people want that closure with a graveside service," Boeke said. We still have full-body services, but even those are mainly a viewing and graveside. Some of the churches still do not let us in."
Boeke said they've also arranged services in which families break into smaller groups to grieve by the casket in turns.
"At first, the services were smaller and really just for immediate family," Boeke said. "I think that it's so important for closure for families, to walk through that process. For a few months, that process was delayed for many."
For Boeke, the hardest part about the changes precipitated by the pandemic has been protecting themselves as they remove bodies, and helping families start the grieving process. Hospitals and care centers were not and are still not letting people in, and traveling for those out of state has been restricted.
"At first that was the hardest thing – we have to do the removal and contact the families to express our sympathies and do our normal routine," Boeke said. "We couldn't do a lot of it the same day, and we couldn't do it face-to-face."
In a lot of instances, Boeke said she and Mark would share hugs with families. Most of those families are friends, so the hugs are as much to help Kathy and Mark grieve as they are to help families cope with loss. That personal touch has been difficult to forgo.
"We want people to know that we will walk them through and it'll be alright," Boeke said. "It's difficult when that comfort measure isn't there. I think it's gotten better, but per family. We respect whatever the family wants to do. If a family comes here and we're close to them, yes, we've given a hug. Sometimes it's too important."