Bartending and waitressing are two occupations in which if you're any good at your job, people forget you're working at all.
Brook Tuttle, a 2008 Iowa Falls-Alden High School graduate, has made the Westside in Alden her employment home for the past five years. She's been there long enough know what many of the regular clients want to drink before they even walk through the door.
"It's a lot easier when you know most of the people. It saves me the steps, so if I see someone walking in and I can already start making their drinks, that's an advantage," Tuttle said. "Most people have a go-to drink or beer and stick with it. I want to say 80 percent of the people who come in here already know what they are getting."
Tuttle originally left the Midwest after she graduated high school. She played college volleyball at New Mexico Highlands University, and earned a four-year accounting degree. While in college, she began a bartending job.
Eventually, she found herself in Cedar Rapids, but decided to quit her job. That's when she reached out to Marcela Hoversten, who together with her husband Bob Hoversten, owns the Westside and Brickhouse in downtown Alden.
"When I came back home, I realized from my college days that I could make some decent money if I got back into bartending," Tuttle said. "I called Marcela and she was like 'When can you start?' That's pretty much how it went down."
Tuttle said bartending work in a college town atmosphere doesn't present a lot of job stress. Bartenders are busy for a two- to three-hour block and then it calms down. But she likes the fast pace that the job offers.
She said her current job beats having to sit in an office or cubicle for eight hours per day.
"If I was sitting at a desk job, that can be stressful and then you bring your work home with you," Tuttle said. "Here, you do your shift and then it's over. There's definitely slow days, but eight hours here is nothing compared to sitting in a cubicle for eight hours. We rarely sit even if we are having a slow night."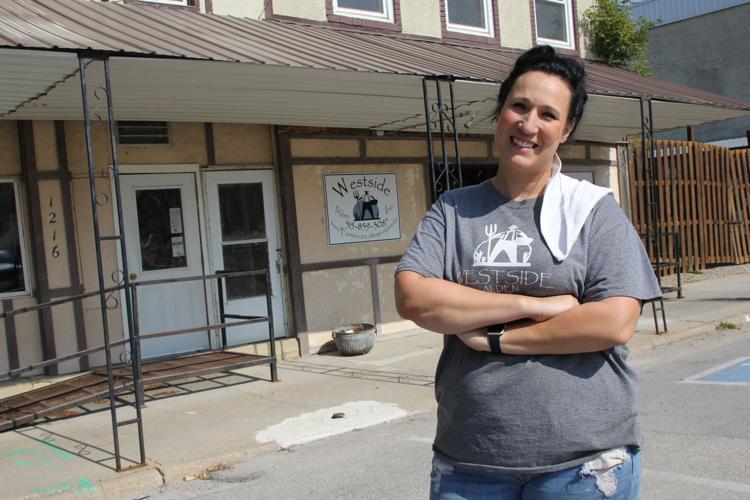 To get acclimated to bartending work, Tuttle said there's no "how-to" manual that will prepare a person. It's definitely on-the-job training, and a chance to jump in head-first to learn as much as possible. She said one of her first bosses told her the key was to act as if she had the job down pat.
A good bartender or waitress can not be timid in front of people, and having an outgoing personality also helps.
"When I first started bartending in college, someone asked for a certain kind of shot. At that time, I thought I could just dump some stuff in a cup and mix it with juice to get by," Tuttle said. "I quickly found out there are so many shot and drink combinations that it's impossible to know them all. I still get requests to this day that I have no idea what are in them."
She said college crowds typically request more shots, while older crowds like their darker beers or mixed drinks. The power of the internet also comes in handy, as customers can Google the ingredients of their drinks so Tuttle and the rest of the staff can make that drink if the Westside has all of the necessary ingredients.
For regular beers, Busch Light and Coors Light are the most popular right now. In past years, Bud Light and Ultra were the drink of choice for many customers. When ti comes to mixed drinks, a lot of people like Captain and Cokes.
Tuttle has learned to balance both bartending and waiting tables at the Westside. The business employs three bartenders/servers.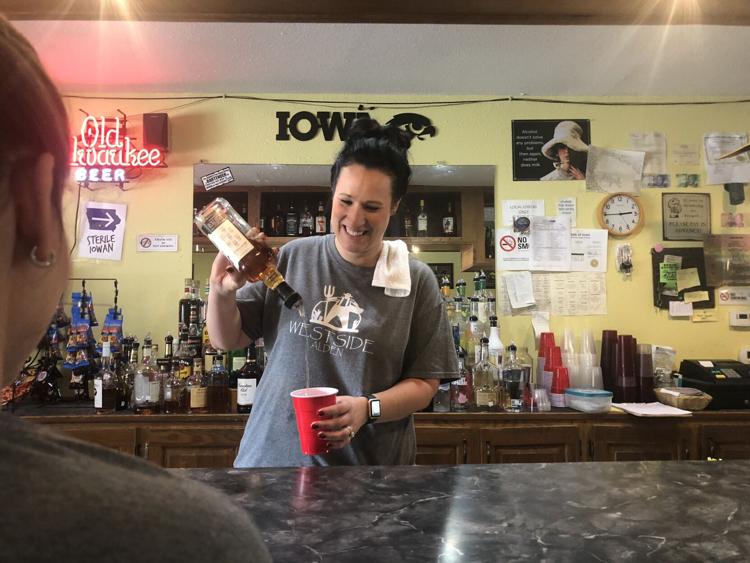 "You make more on food tables because people are willing to tip more because the bills are higher. The bar scene is much more fast-paced because you are constantly serving drinks. Here, it's a better pace because you serve drinks and deliver food. People don't really get angry here for the most part," Tuttle said. "Every once in awhile we get a food complaint, only because everyone has their own idea of how something should be prepared or cooked. Drinkers want their glass re-filled if they are empty, but for food service, you have to take an order. There are times I'm taking a table of 10 people for food, while someone at the bar wants their next drink right away. But for the most part, people are understanding."
Like the bar side, Tuttle has noticed that regular customers who eat food at the Westside like to stick to their favorites. So much so, that if she knows the customer, she can guess what they are going to order most of the time.
Two years ago, Tuttle's son Theo was born, which has added responsibilities to her plate. While she works five days - 30 to 40 hours - per week, she also finds time to spend with her son. As he gets older, she admits it may be more of a challenge to maintain her current job.
"I love it here and the money is good. I get to work 30, 35 or 40 hours per week and be home with my son. That's hard to beat. When he's 5 years old I may have to look for something, but it works right now," Tuttle said.
People have asked her if she would consider returning to a job in the accounting field, but right now, she gets her fill of numbers by working in her current role.
"The money is 90 percent better here, and I can do numbers in my head when I'm adding up tickets. I can usually get it down before I go to the register," Tuttle said. "It's nice to be known as part of a staff and have all of the interactions with the customers, who I already know. It's a family atmosphere here and I might not find that somewhere else."