Ten runners, two vehicles and 339 miles of non-stop running.
Unforeseen circumstances happened along the way, but Team Loveshack was still part of the largest relay event in the world, completing over 230 miles in 36 hours.
Relay Iowa is a three day, two night event that starts in Sioux City and ends in Dubuque. Team Loveshack – made up of mostly Hardin County residents or former residents – started the race on Friday and made it through the first eight checkpoints.
Mike Teske – an Eldora native – has seen the group running through his hometown for years. He decided to throw out the idea to some of the Loveshack group that rides together on RAGBRAI. The core of the team – Adam Nederhoff, Jeff Burchfield and Teske – organized a group of 10 runners together that were ready and eager to give the trek across Iowa a try. Local (and once local) runners were: Nederhoff, Burchfield, Teske, Geoff Buchanan, Mike Rottink, Annette Baker and Chris Renihan.
It was a staggered start, with teams starting early on Friday morning and late into the afternoon. Based on their average mile time, Team Loveshack was seeded fourth in a field of 45 teams. Because of that, it was rare that they ever saw another team along the route.
"The first leg everyone was excited and didn't matter that we got no sleep. Then later, it's weird because you don't warm up or stretch, you just take off and go. And by the second half of day two and the third day, it wears on you," said Teske.
Along the route there are checkpoints, which are roughly 30 miles apart. At the checkpoints there was food, support, sometimes showers. That's when the vehicles would switch off. The cars of five teammates would split up the 30 miles and five hours and at the next stop, the next car load would go out.
"What we would do, with five of us, for the most part, we would do three miles legs and then leap frog ahead and the vehicle would be there waiting and we would hand off to the next person," Burchfield said. "And then, you had four different three mile legs that you had some rest before you did it again and that was it."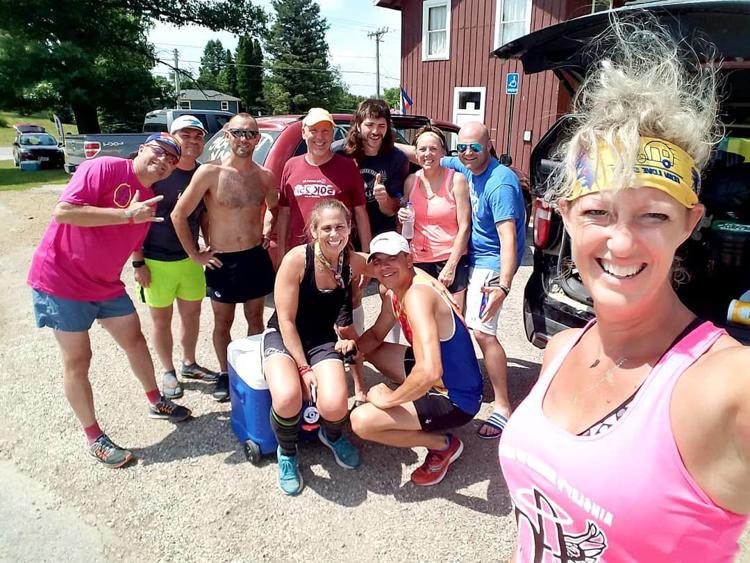 The run was full of new experiences, even for some of the most advanced runners in the group. One of them was running at night, all alone. As well as having to move from the roadway, to the shoulder and then onto sidewalks.
"It's something new. When you are shifting around from running on the shoulder to the side of the road, to in the gravel because of oncoming traffic and that type of thing," said Burchfield. "It was blazing hot at times, so that made it a challenge."
After leaving the checkpoint in Eldora, the group on the course at the time started doing mile runs at a time. After running a mile they would hand off to another runner. That made their mile times better, but it was also difficult because there was less time to recover between their leg.
The group made it to the Hudson checkpoint and switched off to the next group. Half the team was resting and the other had started it's next leg. That's when the weather started to change.
The sky started to get dark and tornado sirens were going off. Organizers told everybody to seek shelter immediately. One of the groups ended up staying at a farm house along the way. They hunkered down for a few hours, just trying to get some sort of rest.
"Getting a good nights sleep isn't even an option, but, if you can get a couple three hours here and there, then you get a little bit replenished and you're not a total zombie and it doesn't take away from what you're trying to do when you're running across Iowa," said Burchfield.
Several hours into the delay they held a team meeting. At that point, they were in limbo if the race was even going to continue. It was not until after midnight that they were able to get people back on the course again – and have them pick up at Manchester due to flooding and storm damage.
"We had run another segment over what they had. It was their next 30 miles, so really it was on them to decide what they wanted to do. Do they want to go there and wait around, do they want to get some sleep at a nice house, and that is what they decided to do. We weren't going to push them and say 'hey, you guys need to be hardcore and get out there.' Because, it was a challenge and it was for fun, but it wasn't a race or anything like that where we needed to prove ourselves to the world," Burchfield said. "They were sleep deprived, they needed some sleep. So they elected to stay and sleep where we were. At that point, based on the weather, the uncertainty of the rest of the relay, it was a collective team decision, you know what let's just call it good.
"Sometimes, you just have to go with the hand that you've been dealt and that was one of those situations. You can do a lot of things, you can control a lot of things, but the weather is not one of those things," added Burchfield.
Though they were disappointed they never reached Dubuque the majority of the members were first times and made it two-thirds of the way across the state. Several are already looking for ways to improve the race next year. The first time out was just a foundation. Next time, they will know what to expect and how to plan for it.
"It was harder than I thought. It was hard to sit and take a break and then run again. I was one of our three strongest runners and it was taxing on me. It wears on you. I think if we could do it again, we would split the cars up. That determines your running teams. We should have had one strong runner in each car, a weakest runner in each car and spread it out," said Teske. "We thought we could switch it up along the way, but you can't. You just got done running, you can't run 10 hours straight. We didn't know what we were up against."