Amanda Hanson grew up in the Iowa Falls School Distrcit. There, she would sit in class with her classmates while the teacher taught them using blackboards, handouts and pretty much anything and everything her teacher could use.
She never thought she'd see the day when teachers and students would be teaching and learning from their respective living rooms. But this is the life of an educator during the global coronavirus pandemic.
Hanson, 34, was a member of the Iowa Falls High School class of 2004. She went on to get an elementary education degree at the University of Northern Iowa in 2008, and a Master's in Education Differentiated Instruction from Graceland University in 2014.
Professionally and personally, she has always called Iowa Falls home. She started working at Pineview Elementary in 2009. It was her first teaching job and she remains on staff there, teaching reading recovery and Title I reading.
"I teach small groups and love interacting with students from kindergarten and first grade," Hanson said. "I love teaching the younger students. At this level they love you and have so much they want to learn."
Hanson said she realized in high school that she wanted to become a teacher. Once she'd decided on it, figuring out what she wanted to teach was an easy choice.
"There was a program called H.E.A.R.T.S. where we got to go to the elementary buildings and help students with their reading," Hanson said. "And I loved babysitting kids and loved seeing them grow up, so I looked for a job that I could help and work with kids."
And so it had gone, without a hitch, until this past March. That's when schools across Iowa closed to slow the spread of COVID-19. Being unprecedented, few believed they would still be dealing with it seven months later.
"My first thoughts were, 'how are we going to do this?' How are we going to teach the lower elementary without being in person?' I truly thought we were going back after the first time they closed us, but then the numbers kept rising and other businesses' opening dates kept being pushed back. I knew that we were more than likely not going to school."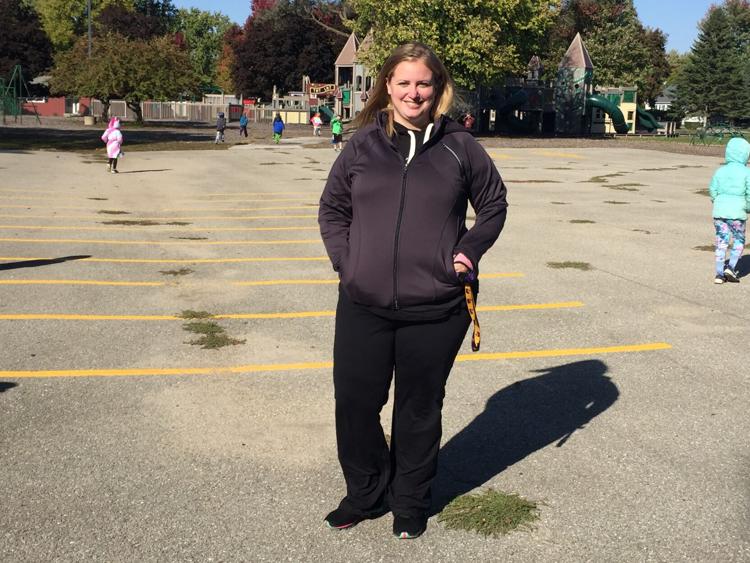 It was an especially difficult time for high school seniors because of the cancellation or extended postponement of prom, spring shows, athletics and other activities, and commencement. But Hanson said it was hard to deal with at the lower grades as well. The timing of the closings, with just a couple of months left of the school year. While everyone's status of education was up in the air, Hanson said there was definitely an emotional toll as well.
"This was very sad because you didn't get the end of the year closure and goodbyes like other years," Hanson said. "You always get attached to the students. I missed them a lot. I missed joking and even the hugs you got from students every day."
Hanson said it was nothing like summer breaks. At least those three months offered the occasional "bumping into" students at the pool, around town, or at various activities.
"It was very different, although I communicated with my students on Zoom or even through pictures from parents," Hanson said. "But I was unable to do activities around town that I would see some of my students at."
The especially frustrating part about heading into summer break with no real closure, was the uncertainty about what the fall would look like, or even if there would be classes. Hanson said the administration did a good job of keeping staff informed.
"Our administrators were fabulous at communicating any new news that came about returning to school," Hanson said. "I wasn't too concerned with it because I already knew we were going to have to just go with the flow and see what this year brought."
Hanson said she and others took time over the summer to start recording videos for an online platform. When she found out that the district's return-to-learn plan included in-person classes, Hanson said she and other staff members were delighted.
"I was very excited though I knew it was going to be different," Hanson said. "But I was also excited to return to a little normalcy." 
That includes face masks or face shields, plastic desk dividers, and constant cleaning and sanitizing. She also helps no more than three kids for a maximum of 14 minutes. So far, so good Hanson said.
"I am sanitizing before and after each one of my groups comes in, I have dividers on each of my tables, we're wearing a mask, washing our hands and using hand sanitizer before and after, and I have individual materials for each student," Hanson said. 
Even so, the back-to-school transition has been taken in with guarded optimism as staff and students continue to take care of the things they can take care of in regard to safety.
"This year we really had to think about how we were going to social distance, how it would look if we needed to go online, how we would place students in our rooms, how often do we need to sanitize," Hanson said. "But my biggest concern is not knowing if we will go online or stay in person. Seeing and hearing the students are excited to be back in school and learning has been very rewarding, though."